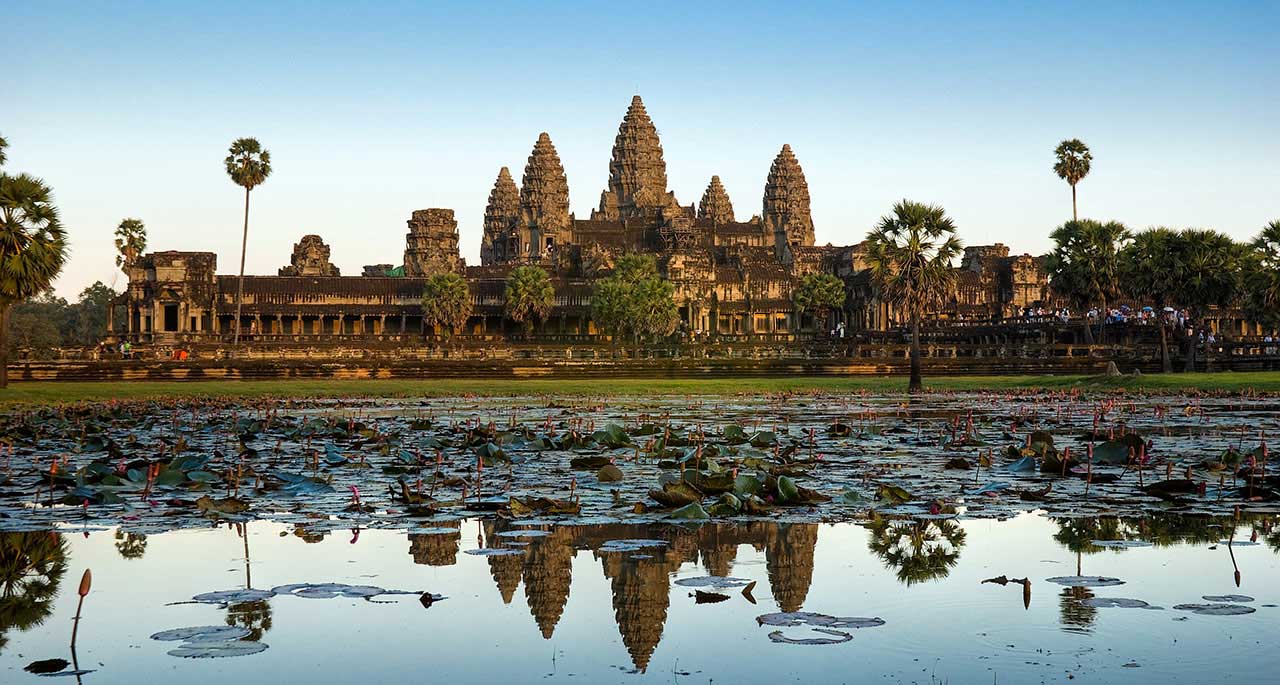 For some people, it's hard to get out of bed in the early morning, around 4 a.m; however, it is well worthy for you to exchange your sleep into the beauty of sunrise over Angkor Wat.
Your Cambodia trip will become regrettable and incomplete if you come to visit Cambodia without watching sunrise at Angkor Wat. Since you most likely visit Angkor Wat only one time, of course, you have to see a magnificent sunrise over the amazing temple. Surprisingly, there are many tuk tuk drivers sitting outside hotels in the middle of the night, getting ready to pick up tourists and taking them to Angkor Wat. In some cases, the thought of getting up at 4 a.m is not too appealing and you seem to begrudge dragging your feet to the tuk tuk and go to Angkor Wat with the hope to capture the majestic and splendorous temple.
After one hour to approach the grounds of Angkor Wat crowed with hundreds of other tourists, you should try to find a prime standing spot around the lotus pond in order to enjoy the splendor of the temple. The sunrise is set for about 5:30 a.m; it is time for you to idolatrize a beautiful sky filled with the vibrant red, orange and purple hues and Angkor Wat gradually appears in front of the surprised faces' tourists. As a result, you immediately realize that your attempt to get up early and your time you spent are completely deserved. Your face will be delightful, your feeling will change, your foolish begrudging attitude will disappear under the shadow of a powerful and awesome masterpiece. This is a worthily reward for your effort in early morning jaunt to the temple.
By the time the sun rises to the highest peak, the whole Angkor Wat and surrounding scenes are illuminated by sun rays; and Angkorians' life begins. Within moments of the sun rising and the birth of a new day, you will be more cognizant of the beauty in life, the purpose of mankind, and all that humanity looks for upholding in Angkor Wat. You have a chance to step deeply into the heart of the largest religious monument in the world.
With fresh air, cool temperature and serene atmosphere around temple in the morning when the crowd dispersed, you immerse in the Angkor Wat's peace and tranquility. Enjoying the nature beauty of the most famous historic temple in Cambodia at sunrise is the wonderful moment with a life-changing experience for your Cambodia Trip which you will never forget.