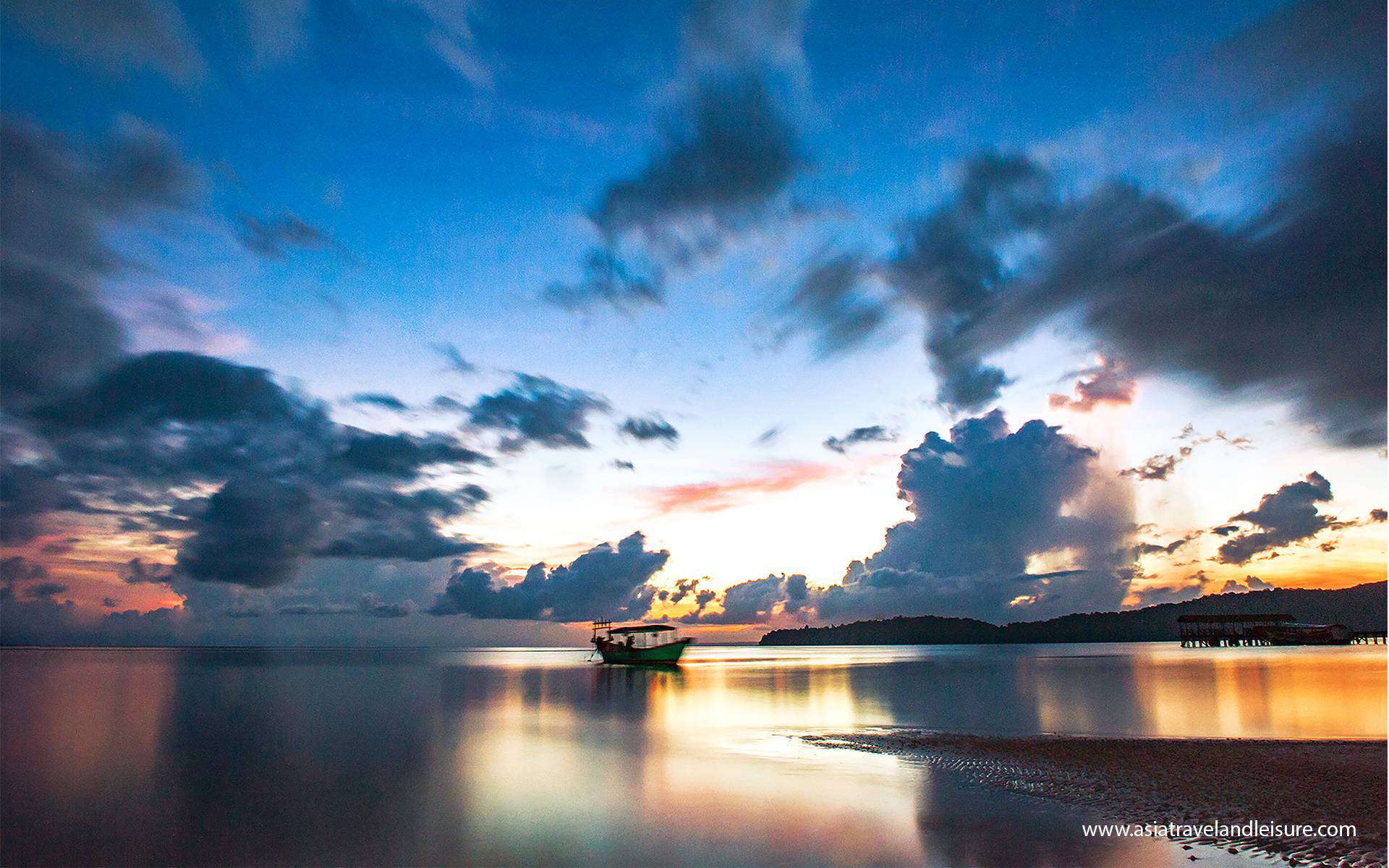 Koh Rong Samloem, also spelt Sanloem and Saloem, is just 18 km far from east of Sihanoukville, the main beach resort of Cambodia, in the Gulf of Thailand. From November to April is the best time to visit this amazing island since these months bring beautifully dry days with very little or even no cloud, almost no rainfall, and a lower humidity than the rest of the year.

This island is extremely outstanding due to its unspoiled natural beauty and pristine beaches. It is the best destination to run out and escape from the bustling and hustling life. Koh Rong Samloem is still underdeveloped, almost eerily quiet, and is covered on the outside with majestic beaches that have gorgeous yellow sands, while also providing beautiful tropical rain forests on the inner portions of the island. Truly there are no two more beautiful island places on the earth.

Coming to the amazing island, you have a chance to immerse in the pristine crystal white sand beaches stretching as far as the eye can see, the beautiful scenery, and shallow turquoise water in Saracen Bay on the eastern side of the island. This bay is the most popular tourist destination with numerous resorts, large and small backpacker huts and many accommodation options all with beachfront views tourists can pick from.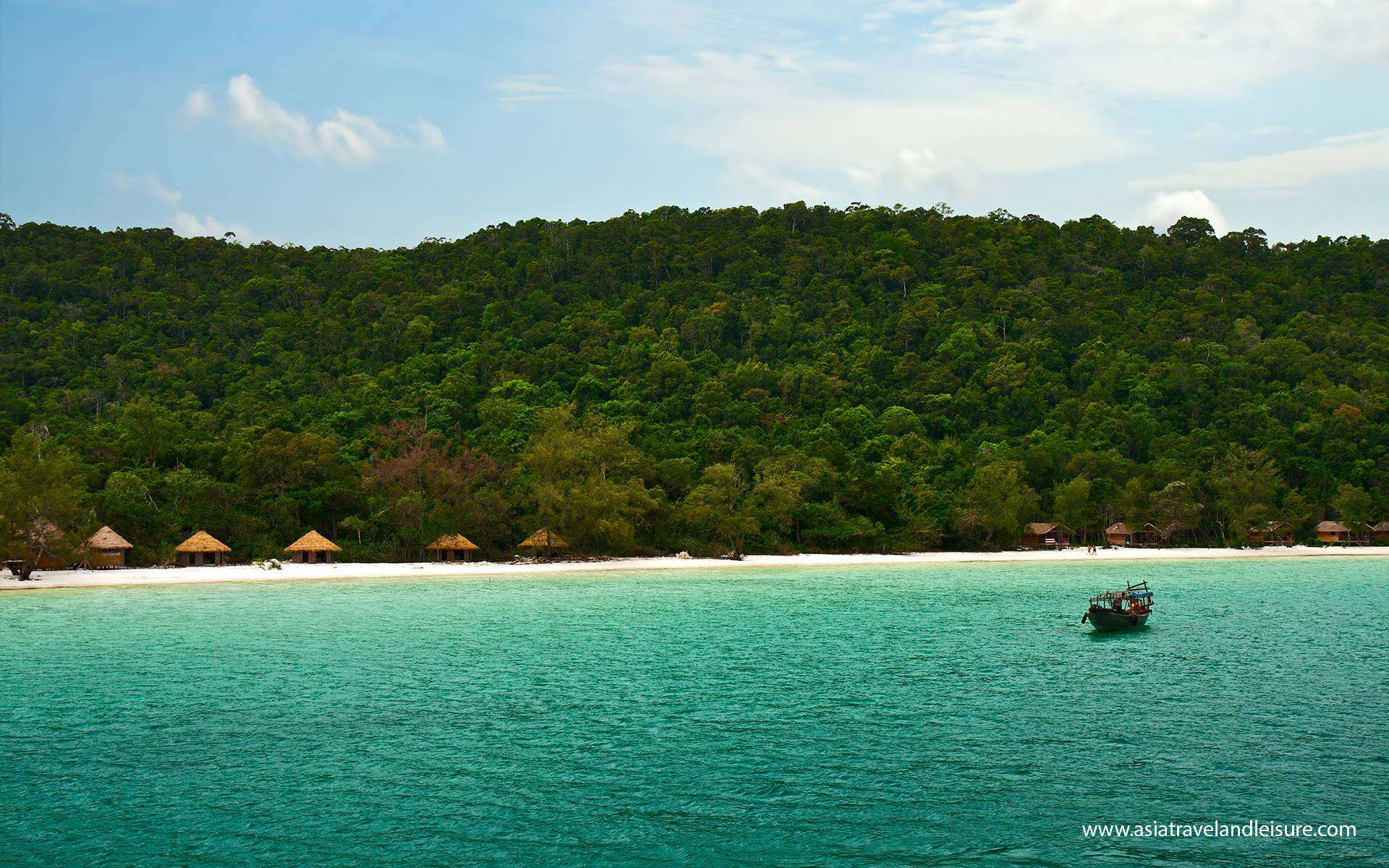 Apart from the super beautiful and incredible Saracen Bay, there are other beaches on the west, namely, Lazy Beach and Sunset Beach – the peaceful pieces of paradise with the golden sand and clear blue waters. Especially, these beaches are definitely for travelers that would prefer to be a bit more secluded from people or isolate themselves with a Robinson Crusoe style holiday when staying here and are the perfect place for an amazing sunset view.

You also experience a little bit of culture at M'Pai Bay which is at the north of the island and is now served by boat services from Sihanouk Ville on the mainland. It has seen many of the new budget accommodation options from individual bungalows to guest house rooms being built either on or a short walk from the beach.
For those who want to enjoy adventurous sports, the snorkeling and scuba diving in and around the island are something that words cannot describe. Tourists will see incredible sea and wildlife while swimming through some of the most beautiful waters. Besides, kayaking, fishing, biking and walking tour are the attractive activities you can choose to admire the magnificent views, explore the exotic wildlife, or learn the historic Khmer culture.

The best way to get to Koh Rong Samloem from Sihanoukville is by the fast ferry. Which boat you catch depends on which beach you are staying at. The boats leave Sihanoukville from Serendipity Beach Pier and arrive to either Saracen Bay or M'Pai Bay. The tickets are around $10 USD per way and can be bought from many restaurants, shops and hostels/hotels around Sihanoukville and on Koh Rong Samloem itself.

You may spend a night or two, even only do a day trip; it is enough time to explore this stunning island. Since there are currently no banks or ATM machines on Koh Rong Samloem and credit/ debit cards are not accepted, you must take enough cash to pay for food, drink, and activities.
Currently, Koh Rong Samloem is trending on social networks, the best peaceful getaway destination and has been recently named by the Huffington Post as one of the "Places You Need To See In The Next Decade". Come and explore a pristine and tropical paradise on earth and have the unforgettable memory in some of our below Cambodia tours: