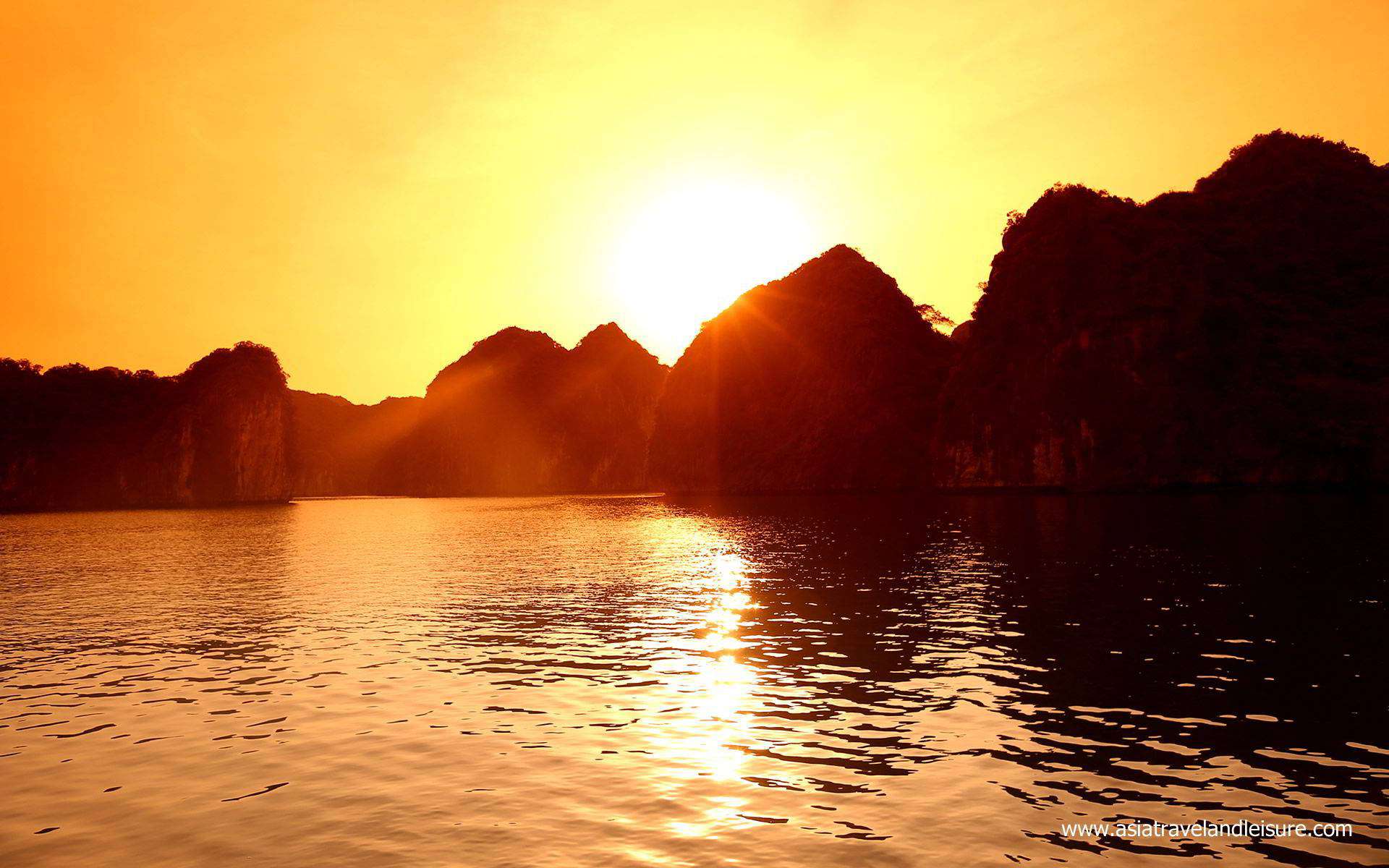 Vietnam and Cambodia are two famous destinations in Southeast Asia on the Indochina Peninsula which have to be visited together. The two countries are neighbors and share a long border leading to a variety of crossings. With Cambodia & Vietnam tours, you will have a unique opportunity to experience many amazing landscapes, natural beauties, fascinating cultures as well as the traditional lifestyle of these incredible countries. The combination travel between Vietnam and Cambodia in one single journey is actually remarkable and promises unforgettable memories for any tourists.
At Cambodia Tours, the perfect itineraries are designed to feature the highlights of both countries while offering personalized opportunities to experience what makes each unique. You will explore the diversity of this stunning corner of Southeast Asia and immerse in an amazing Vietnam and a fantastic Cambodia.
With Vietnam's soaring northern mountains, sunny southern regions and gorgeous coastline, the S-shaped country is filled with natural beauty. Start your tour with visiting all the main highlights from the historic capital – Ha Noi, Halong Bay, unparalleled leisure in Hoi An, Imperial Hue to the colonial Ho Chi Minh City and vivid Mekong Delta, discovering tradition and history in charming rural villages. Then transfer to Cambodia and explore its history and embrace the fascinating culture of this pearl of South East Asia. Known as the temple hub of the world with a lot of beautiful sceneries, Cambodia is a worthy destination to discover many highlights such as the sights of the buzzing capital city of Phnom Penh, Siem Reap - gateway to the iconic and awe-inspiring Khmer temple complex of Angkor Wat, Tonle Sap Lake - South East Asia's largest freshwater lake, and see floating villages.
Transportation and Visa to Cambodia
As with the crossings open regularly, it becomes much easier to travel to Cambodia from Vietnam. There are a variety of ways to get from one to another, including flights, buses, and boats. Tourists want to come to Cambodia are required visas; however, they are available on arrival at both of Cambodia's international airports and at all land border crossings. In order to qualify for a visa on arrival, you need a passport sized photo and your valid passport. The Government Immigration distributes application forms upon arrival. If you arrive by air at Phnom Penh International airport or Siem Reap International airport, it is so simple and just takes you few minutes to get visa done. The fee is 30 USD for a 30-day visa (Cash only). From Vietnam, you can pass to Cambodia via few border gates, namely, Vinh Suong (Chau Doc - mostly people come by boat), Xa Xia (Ha Tien), or Moc Bai (Tay Ninh) when you drive from Ho Chi Minh. The visa fee is 33 USD for a single entry. Cambodia also offers online visa processing through the country's Ministry of Foreign Affairs website.
Here are three popular modes of transportation to Cambodia from Vietnam:
Airplane
Cambodia has two major airports, one in the capital, Phnom Penh and one in Siem Reap, which is near the Angkor Wat temple complex. Most flights from Vietnam to Cambodia originate in Ho Chi Minh and Hanoi and take between one to three hours.


| Route | Time | Number of flight/day |
| --- | --- | --- |
| Hanoi - Siem Riep | 1 hour 45 min | 4 flights/day |
| Hanoi - Phnom Penh | 3 hours 20 min (1 stop at Vientiane, Laos) | 1 flight/day |
| HCM – Siem Riep | 1 hour 20 min | 4-5 flights/day |
| HCM – Phnom Penh | 55 min | 4 flights/day |
Bus
Numerous land crossings are available between Vietnam and Cambodia. Many people travel from Ho Chi Minh City to Phnom Penh by bus, a trip that takes approximately 6 to 7 hours, including a border stop. This crossing is called Moc Bai on the Vietnamese side and Bavet on the Cambodian side.
Boat between Vietnam & Cambodia
Tourists and the locals can get from Vietnam to Cambodia by Mekong River, which is the best way to explore this beautiful part of Cambodia and Vietnam. River boat border crossings are available with brief stops on land to check passports and visas. Tourists can get visa-on-arrival at the Cambodian border crossing. There are many choices for boat from Vietnam to Cambodia from decent boats to luxury boats. And speed boat service is available from Chau Doc in Vietnam to Phnom Penh with prices of $19 ~ $50.
Travel Style, Length of Trip and Budget
Exploring the beauty of two charming countries in Southeast Asia – Vietnam and Cambodia – will be your memorabilia. With enthusiastic travel consultants, experienced operators and local guides in each country, we offer a variety of travel styles for Vietnam – Cambodia tours adapting to any your requirements – from adventure tours to luxury ones with reasonable prices for each object such as individual, group, family, couple… All of our tours are private and flexible and are carefully crafted just for you to experience the very best that Indochina countries have to offer.
If tourists have a great sense of adventure and love nature, discovery and diversity of local cultures, get off the beaten track on one of our adventure tours in Cambodia and Vietnam. Immerse yourself in the communities of the Vietnamese and Khmer people. Delve deeply into the colorful cultures of the 2 most interesting countries in the Indochina, in our Cambodia & Central Vietnam tour – 12 days or Cambodia & Vietnam Adventures – 14 days tour.
For couple or tourists want to experience a romantic and luxurious holiday, Vietnam and Cambodia are the perfect destinations with their offering of pristine landscapes, unrivaled hospitality, alluring cultures and the comfort and luxury of the region's finest hotels. Visiting the charming capital of Vietnam, watching the sunrise over the magnificent Ha Long Bay from the board of cruise, discovering the beauty of Mekong Delta, going to the Angkor temples and immersing in the wonderful moment of sunrise over the Angkor Wat in Siem Riep, Cambodia are what you deserve in the Luxury Siem Reap & North Vietnam – 8 days tour.
Besides, Biking Vietnam & Cambodia – 12 days tour is one of the best experiences the historical sites such as ancient temples, enjoyable scenery, the local people and their cultures in Vietnam and Cambodia with a competitive price, enjoyable off the beaten track and back roads. Leisurely cycle through the graceful river landscape, pass lush green rice fields, tropical sugar palms and lotus flower dotted lakes in Vietnam and then explore the famous stunning Angkor complex and beautiful countryside, which makes this a great extension to any trip in South East Asia.
Travelers who love to explore the unique cuisine culture of two these countries can join Vietnam & Cambodia Foodie - 16 days tour. From the majestic Angkor temples to the emerald waters and haunting karst fangs of Halong Bay, Cambodia Tours designs a foodie tour takes you across Vietnam and Cambodia's kaleidoscope of landscapes. Let you dine your way, indulge all your senses in delicious tastes and tantalizing aromas, while travelling in comfort and style.
A 9 ~ 18 day tour in Vietnam and Cambodia is enough for tourists in order to discover every corner of two fantastic countries in Indochina. Depending on your travel style and budget, you can choose the best suitable tour on our website or even make your own itinerary with our local travel consultants. Some say that Vietnam and Cambodia are the most popular budget travel destinations in the world; however, it does not mean that you cannot experience the perfect services. With accommodation, airport transfers, transportation and guided sightseeing included, budget of a wonderful and comfortable Cambodia and Vietnam trip is around $80-$150/day. Comparing to other countries, this price is much more reasonable and almost tourists can afford.
In general, Cambodia and Vietnam are the worthy destinations to come together. From bustling vibrant cities to tranquil villages, from ancient capitals to beautiful natural settings, two countries have all and wait for you explore.
[tukhoa=vietnam-cambodia-tour]vietnam-cambodia-tour[/tukhoa]