Cambodia is fast becoming one of the most popular Southeast Asian travel destinations, with its ancient temples, vast jungles and coastlines, cosmopolitan capital city, and smiling, friendly people. Traveling to Cambodia is an inviting cheap getaway and is not difficult but you have to prepare in advance. Below is some essential information which is useful when you plan a trip to Cambodia.

1. Visa

There is no difficulty at all to get a visa to Cambodia. You can apply for a visa before traveling to Cambodia or upon arrival at the international airports of Phnom Penh and Siem Reap. Visas are also issued at the Cambodia–Vietnam border checkpoints (Bavet and Kham Sam Nor) and at the Cambodia–Thailand border checkpoints (Cham Yeam/ Koh Kong, Poipet/ Banteay Meanchey, and O'Smach/ Ordor Meanchey). Just bring one passport sized photo and $30 in cash for a visa of 30 days.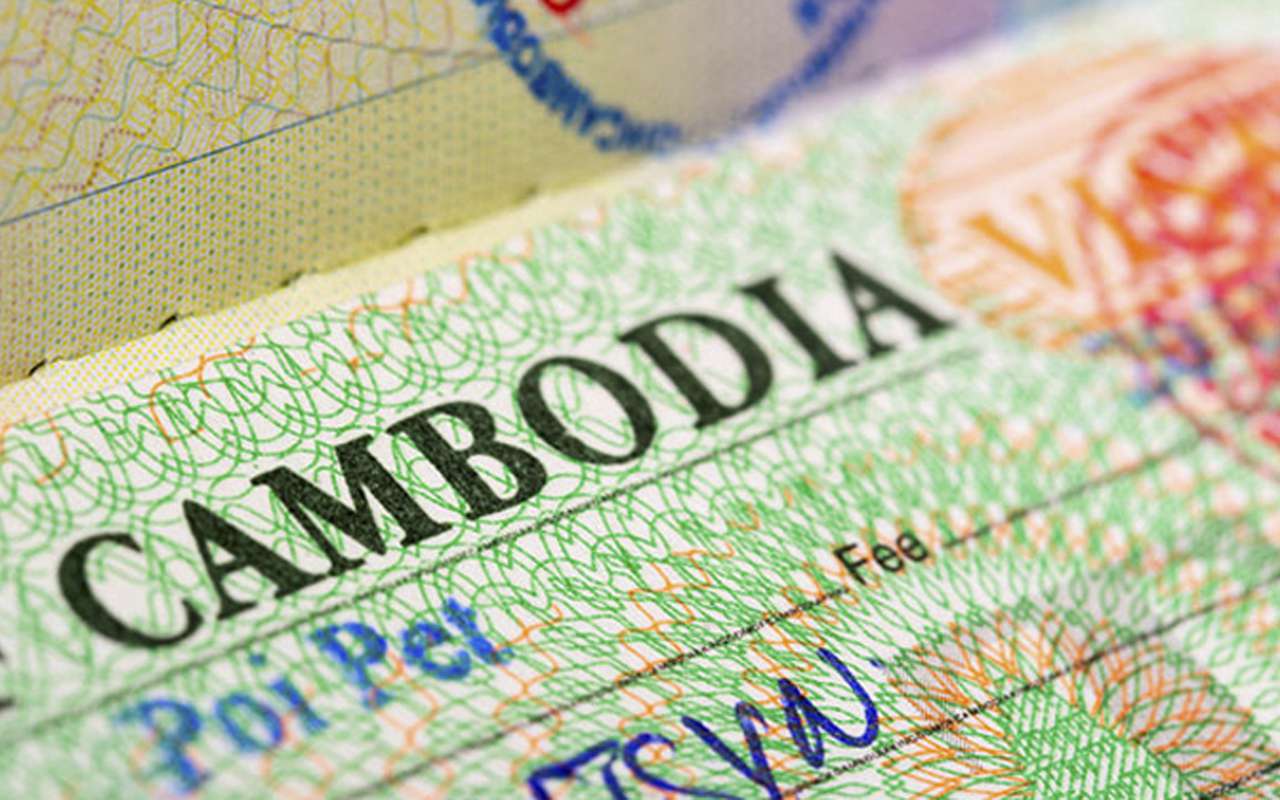 If you don't want the hassle of standing in line to apply for visa at the airports, you can apply for an e-Visa online. These are only valid for 30-day visas and those entering the country at the Phnom Penh and Siem Reap Airports. You can get your Cambodia e-Visa online at www.evisa.gov.kh.

2. Transportation in Cambodia
2.1 By bus
Several air-conditioned bus services offer comfortable and affordable trips between Phnom Penh and various destinations, including Siem Reap, Sihanoukville, Kampot/Kep, Battambang, Kompong Cham, Kratie, and Poipet. Shorter trips to places such as Udong or Kompong Chhnang can also easily be made by air-conditioned buses. You can check the buses with your guesthouse or a travel agent.

2.2 By train
Passenger rail services resumed in Cambodia in 2008, but are of limited use for tourists: services are extremely slow and the network is small, although there are plans to upgrade it.

2.3 Motors, tuk-tuks
Motorcycle taxis or "motors" can be found all over the country. Because taxis are sometimes hard to find in Phnom Penh, the moto is often the best way to get somewhere quickly. Many moto drivers can speak some English. Besides, you can take a tuk-tuk, a traditional and common vehicle in Cambodia but it is slightly more expensive than motos. Be sure to negotiate the fare before you get in.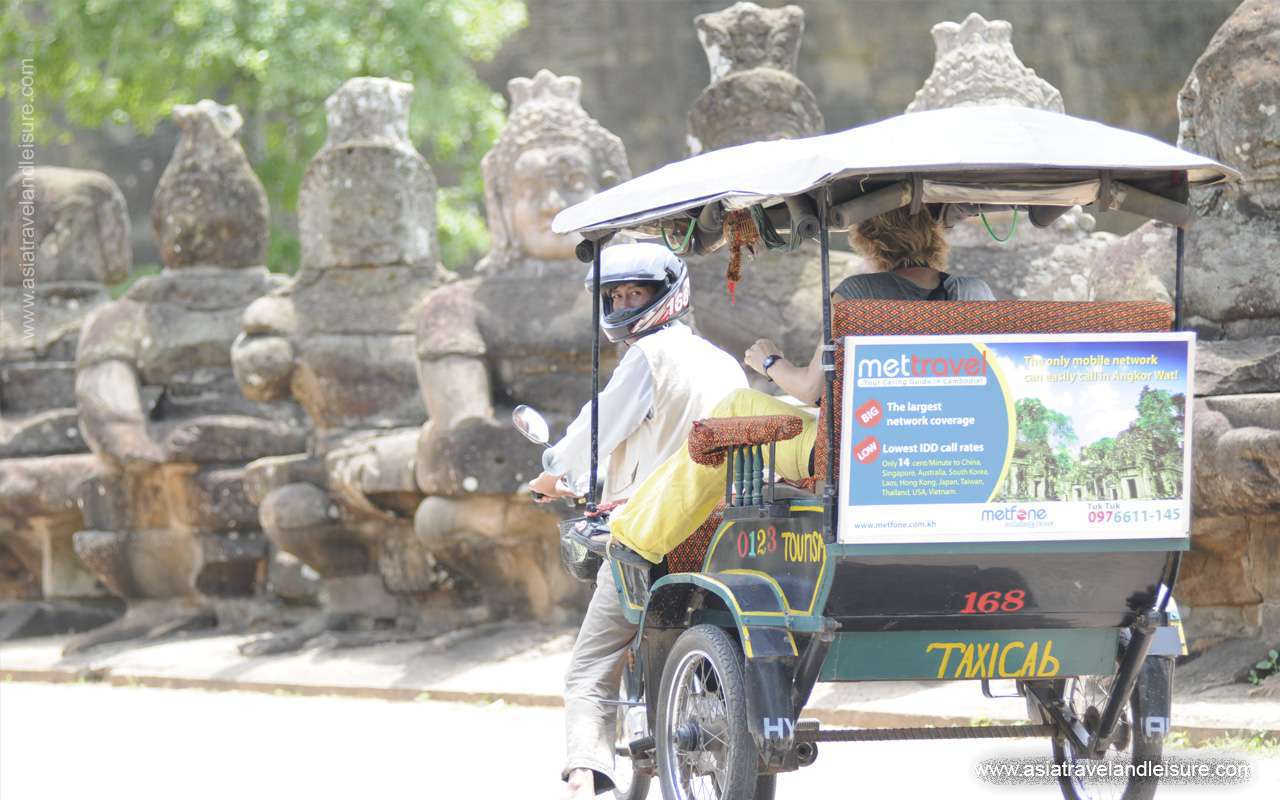 2.4 Taxis
There are no metered taxis in Cambodia, so hard negotiation is required before accepting a taxi ride to avoid a dispute afterward. Within Phnom Penh city, they may be difficult to locate quickly. In Siem Reap, there are plenty of taxis ready and willing to take you around the temples at Angkor.

3. Where to stay

There is a wide selection of accommodation throughout Siem Reap and Phnom Penh. Depending on your budget, you can choose hostels, guesthouses with air conditioning, a refrigerator, and wifi.

For those looking for a little more luxury, you will find accommodation with a swimming pool and gym. Siem Reap also has a good variety of 4 and 5-star hotels including Le Meridien Angkor, Grand Hotel D'Angkor Raffles, Park Hyatt Siem Reap and the Sokha Hotel as well as numerous boutique hotels. You can expect to pay anything from $100 – $500 a night.

4. What to do in Cambodia
4.1 Cycle around Siem Reap
Cycling is a convenient way of sightseeing and one of the most popular things to do in Cambodia for backpackers. Your trip to Cambodia becomes more exciting when you ride through quiet trails of the countryside amidst breathtaking natural scenery and escaping the crowd and busy roads. The Siem Reap biking tours include sightseeing of Ta Prohm, the Terrace of Elephants, Bayon, and other prominent Angkor temples.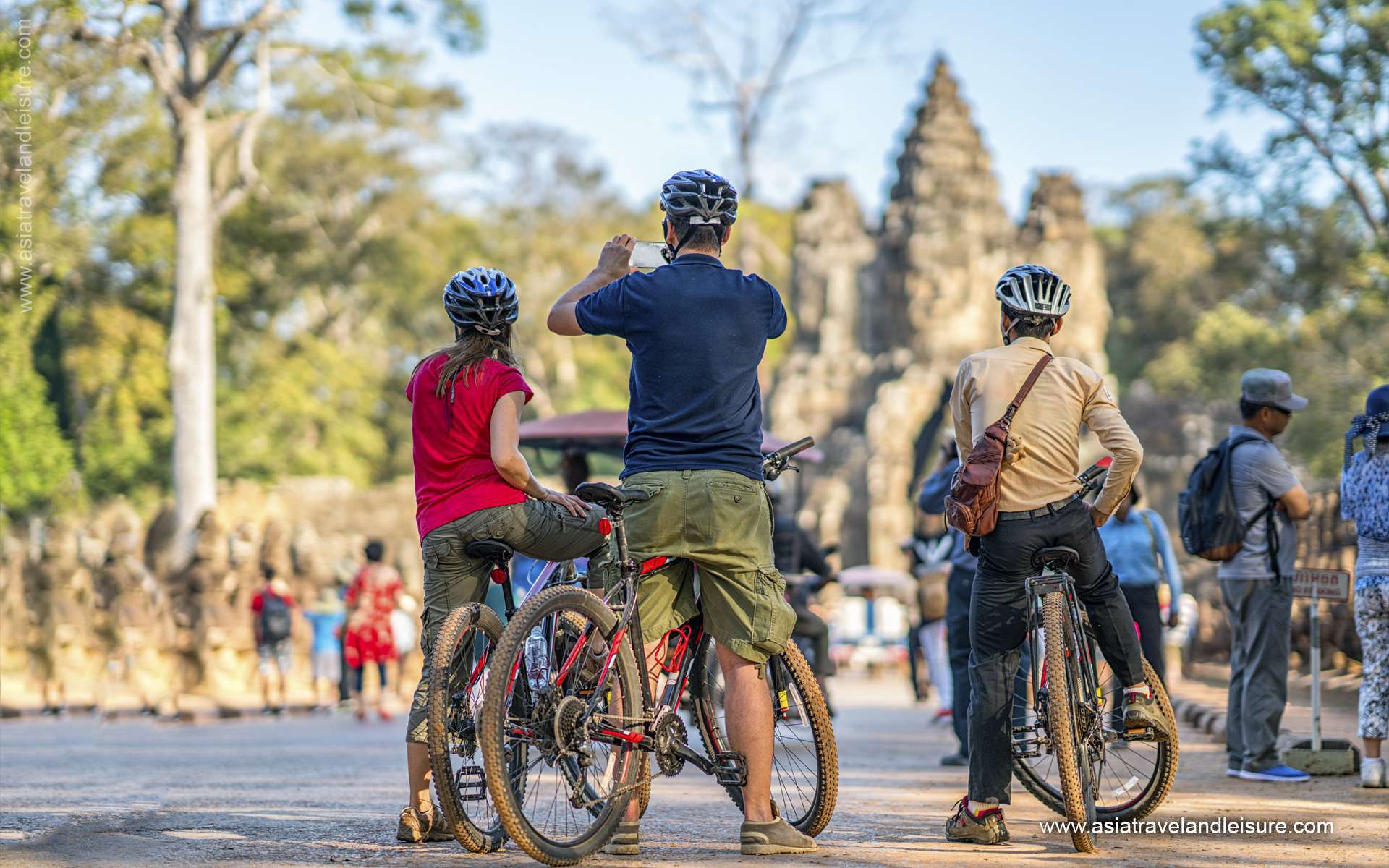 4.2 Visit Angkor Wat
Angkor Wat is a temple complex in Cambodia and the largest religious monument in the world. It was originally constructed as a Hindu temple of god Vishnu for the Khmer Empire, gradually transforming into a Buddhist temple towards the end of the 12th century. The most famous, most ancient, unrivaled beauty and pristine of this site is unlike anywhere else on earth, which is why it is among the prominent tourist attractions in Cambodia.

4.3 Wander through Ta Prohm Temple
Ta Prohm is the undisputed capital of the kingdom of the trees. Trees began to grow from the tops of the walls, and as they got bigger, they began to topple the stone walls. This is a fascinating example of the power of nature and amongst the most preferred places to visit in Cambodia. The enormous roots grasping the shrine seem to be challenging the world to try and alter the structure. It has been left untouched by archaeologists except for the clearing of a path for visitors and structural strengthening to stave off further deterioration.

4.4 Enjoy the stunning Khmer Dance in Phnom Penh
For the lovers of art, theatrics and dance, the Apsara Show, or the traditional Khmer performance, is one of the best things to do in Cambodia. No visit to Cambodia is complete without attending at least one performance. This cultural dance form draws its roots from the mythological courts of kings and Gods, from where it has developed into its modern, unique form. The Khmer dance revolves around a storyline which it narrates through the attractive, flexible movements of the performers and their colorful, eye-catching attires, which is why it is among the popular things to see and do in your Cambodia trip.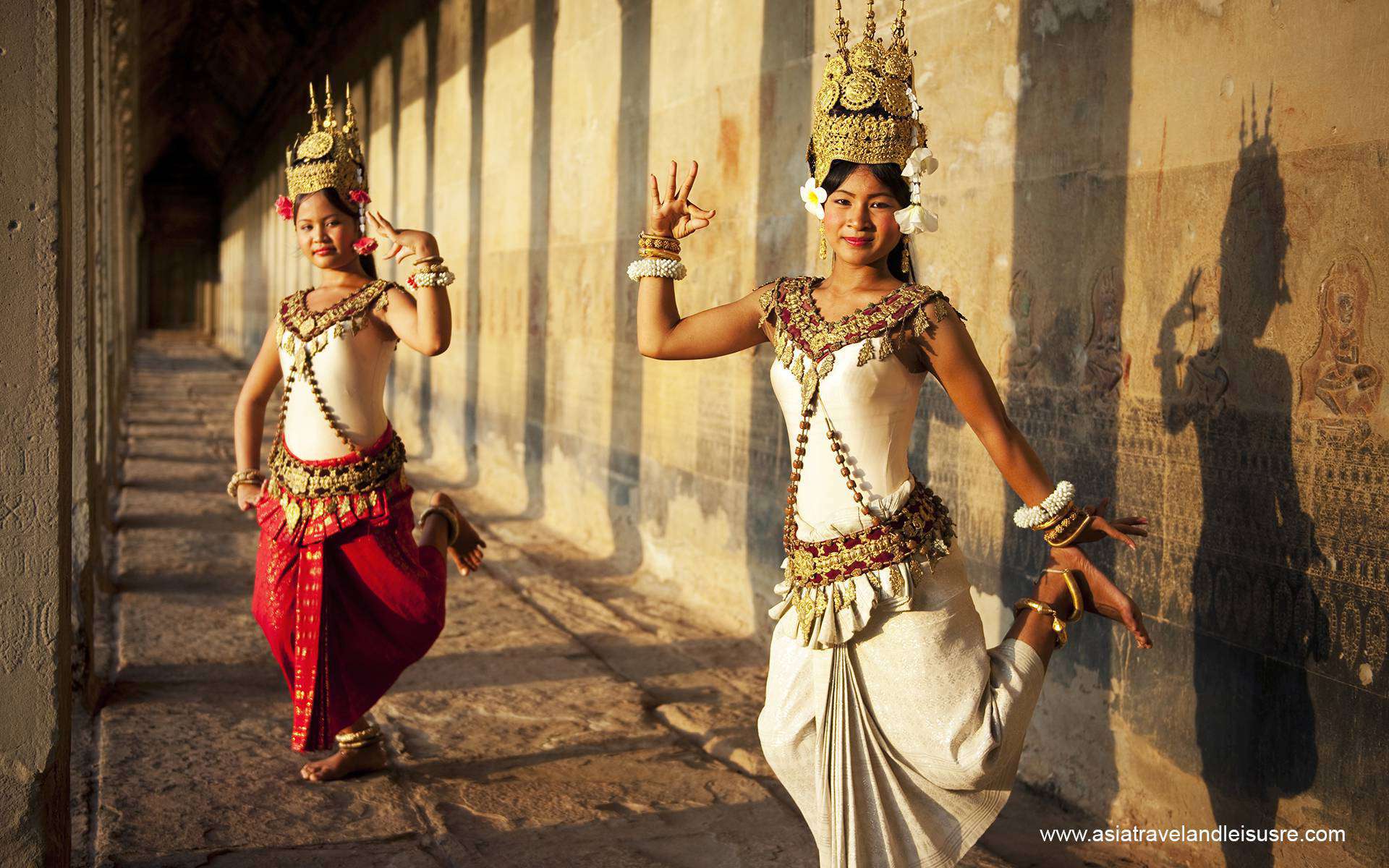 4.5 Visit Royal Palace in Phnom Penh

Gleaming in gold, the Royal Palace is one of Phnom Penh is one of the most splendid architectural achievements. The palace was built in 1866 by His Majeaty Preah Bat Norodom and it serves as the King's residence, a venue for court ceremony and as a symbol of the Kingdom. The elegant structure is characterized by its crown of stupas and towering spires, the handsome Silver Pagoda sitting adjacent to it, manicured tropical gardens, and the tranquility that prevails inside its high-rise walls. With all this and more, the Royal Palace is undoubtedly one of the best Cambodia tourist attractions.

4.6 Spot dolphins & sunset on Mekong River
Sailing from Phnom Penh to Siem Reap on a traditional Cambodian boat is one of the most enriching and fun things to do in at Cambodia. Other than the relaxing journey, the stunning views of the sunset that one can witness from aboard the cruise is like a cherry on the cake. On the journey, you can also easily spot the Irrawaddy river dolphins in the water, the rarest of all aquatic mammals. Observing these peaceful, friendly creatures in their natural habitat is undoubtedly among the refreshing things to do in Phnom Penh.

4.7 Hangout at the laid-back beaches in Cambodia
Cambodia has some of the most relaxed, laid-back beaches in Southeast Asia. Among the varied popular Cambodia tourist attractions are the sandy, pretty beaches of Sihanoukville, Kep, Koh Rong and Koh Rong Samloem which provide travelers with every bit of comfort and splendid views. You can bask in the sun lying comfortably on hammocks and recliners, get a massage, and go snorkeling, fishing and boating. Travelers looking for a rather relaxed holiday must check out the islands and beaches in Cambodia.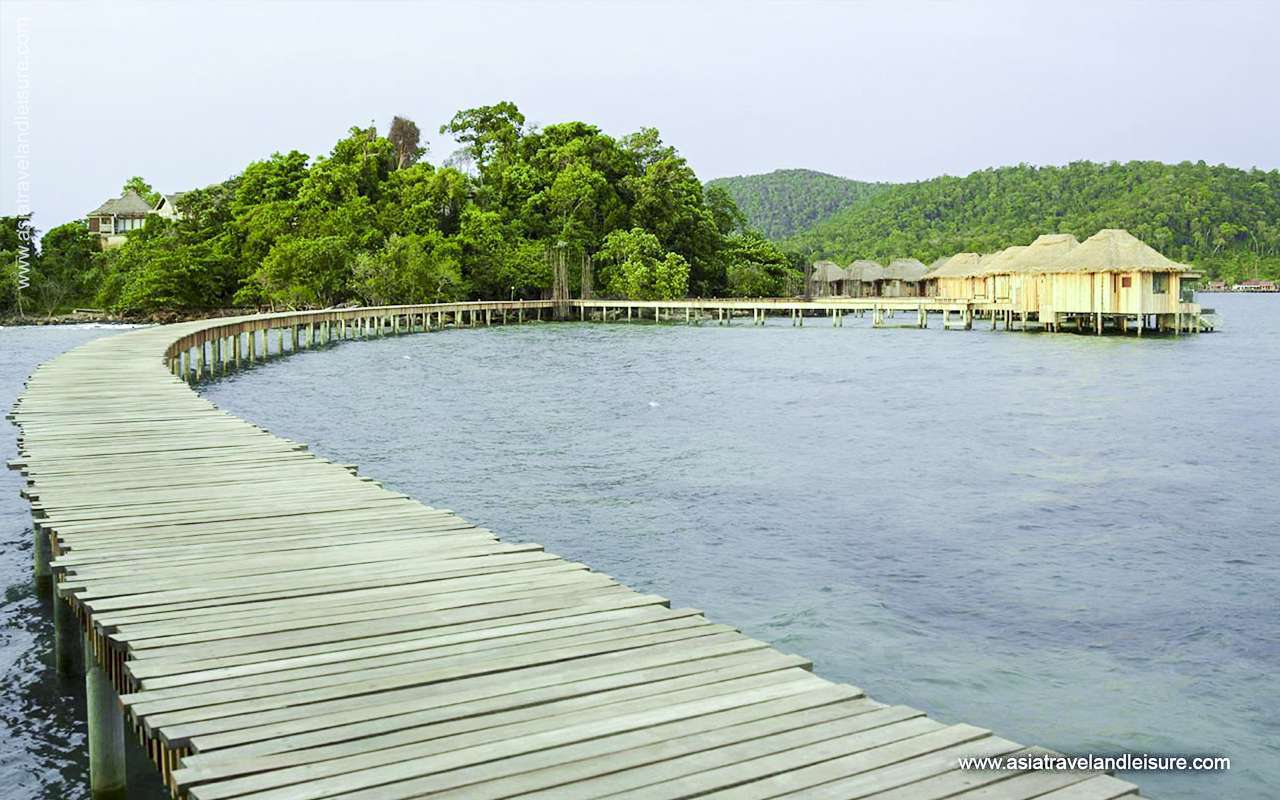 4.8 Dive in Sihanoukville

The beauty of Cambodia is not just limited to what one sees on the surface, but also in the vast, vibrant world underneath. The diving sites in Sihanoukville are blessed with crystal clear water, favorable water temperature, colorful corals, and a diverse range of marine life including seahorses, whale sharks, sting rays, eels, triggerfish, barracuda, nudibranch, starfish, and much more. For those loving adventure, diving is one of the most fun things to do in Cambodia and will give you a unique experience.

4.9 Taste Cambodian foods
One of the major Cambodia attractions that drives people to visit this paradise is its food. A typical Cambodian meal consists of rice and a fish item. Cambodian food involves a lot of variations which travelers fall in love with. You may wish to try the range of delicious dishes like Fish Amok (steamed coconut fish in banana leaves), Samlor Machu Trey (sweet and sour soup with fish), Nom Banh Chok (Khmer noodles), and the Num Anksom Sach Chrouk (sticky rice cake). Also, with its vast range of seafood, Cambodia is one of the best places for seafood lovers.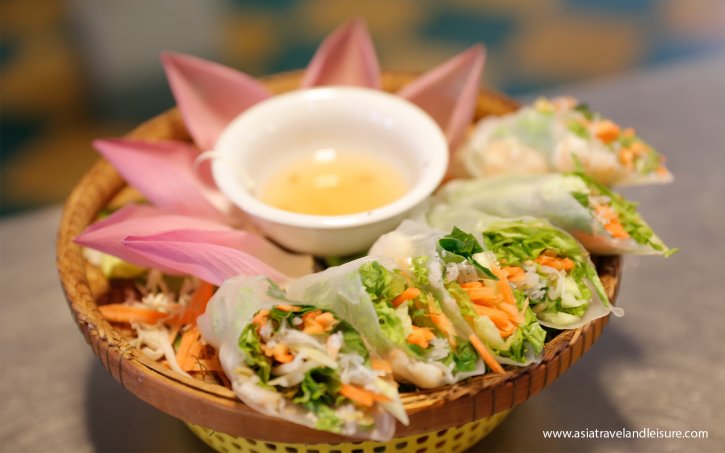 4.10 Go shopping in Cambodia
With its massive variety of inexpensive handicraft products, Cambodia is a haven for shopping freaks. Some of the best things to buy in Cambodia include silver trinkets, precious gems, and stones, betel nut boxes, rice paper prints (imprints of Angkor temples), checkered Krama scarves, weaving silk, carved wooden items, and more. And you can buy quality Cambodian items at reasonable prices from Angkor Night Market, Made in Cambodia Market, Angkor Handicraft Association, Old Market, and the Russian Market in Phnom Penh.

5. Where to go in Cambodia

Many people only visit Siem Reap to see the ancient temples of Angkor but Cambodia is definitely worth a longer stay and has many places to discover:

5.1 Siem Riep
5.2 Phnom Penh
5.3 Sihanoukville
5.4 Battambang
5.6 Preah Vihear
5.7 Kampot & Kep
5.8 Kratie

To get more useful information, you may wish to visit: Cambodia - Where to go?