Traveling in Cambodia, visitors will have opportunity to explore lost cities and spectacular temples hidden in the jungles, discovery village smiles and remote hill tribes. Just contact our travel consultants at Cambodia Tours to get free helps and ideas about your Cambodia trip. You will be surely fall in love with this beautiful country and its lovely people!


1. Cambodia culture & history tour
Cities to visit: Phnom Penh - Siem Riep

The Cambodia culture & history tour
offers miniatures of famous Cambodian moments, from insights into culture with history movingly inscribed in its ancient temples and modern war memorials.
From Cambodia ancient dynasties to more recent tragedies, the rich varied history has shaped an engaging country and people. An unique Khmer style emerged from the combination of indigenous animistic beliefs and the originally Indian religions of Hinduism and Buddhism. Cambodians have been raised to respect their culture and are very traditional in their way of life.b


On the banks of the mighty Mekong, Cambodia's capital Phnom Penh is packed with cultural attractions. Discover the bustling city of Phnom Penh with its waterfront promenade dominated by the towering spires of the Royal Palace, saunter through the compound and visit the Silver Pagoda, from stunning Baccarat-crystal and solid gold Buddhas to museums housing ancient treasures from past eras. This tour also give you a chance to travel outside the city to see the infamous killing fields of Cheoung Ek. These fields offer the chance to witness some of the more disturbing history of Cambodia.


Cambodia is a country probably best known as the home of the stunning temples of Angkor. You will never forget your first glimpse of Angkor Wat; its crumbling temples, intricate carvings and encroaching jungle are far and away the number one reason for most visits to Cambodia. But while it's all very Indiana Jones, don't overlook the country's other charms. The Khmer people are some of the friendliest in Asia, while the peaceful waters of the Tonlé Sap, coupled with the mountain-backed beaches of the south, make Cambodia's countryside delightfully photogenic. To see it all you'll need a couple of weeks at least, but if you're short on time then Angkor Wat can easily be tacked onto a Vietnam or Thailand holiday.


Scattered throughout Cambodia are many temple and fortress ruins, dating from the times when it was a mighty Kingdom. Make a base in the village of Banteay Chhmar and you'll be within striking distance of several of them. Alternatively, head for the pleasant province of Kompong Thom and you'll have even more choice of temples, with some dating back over 1000 years.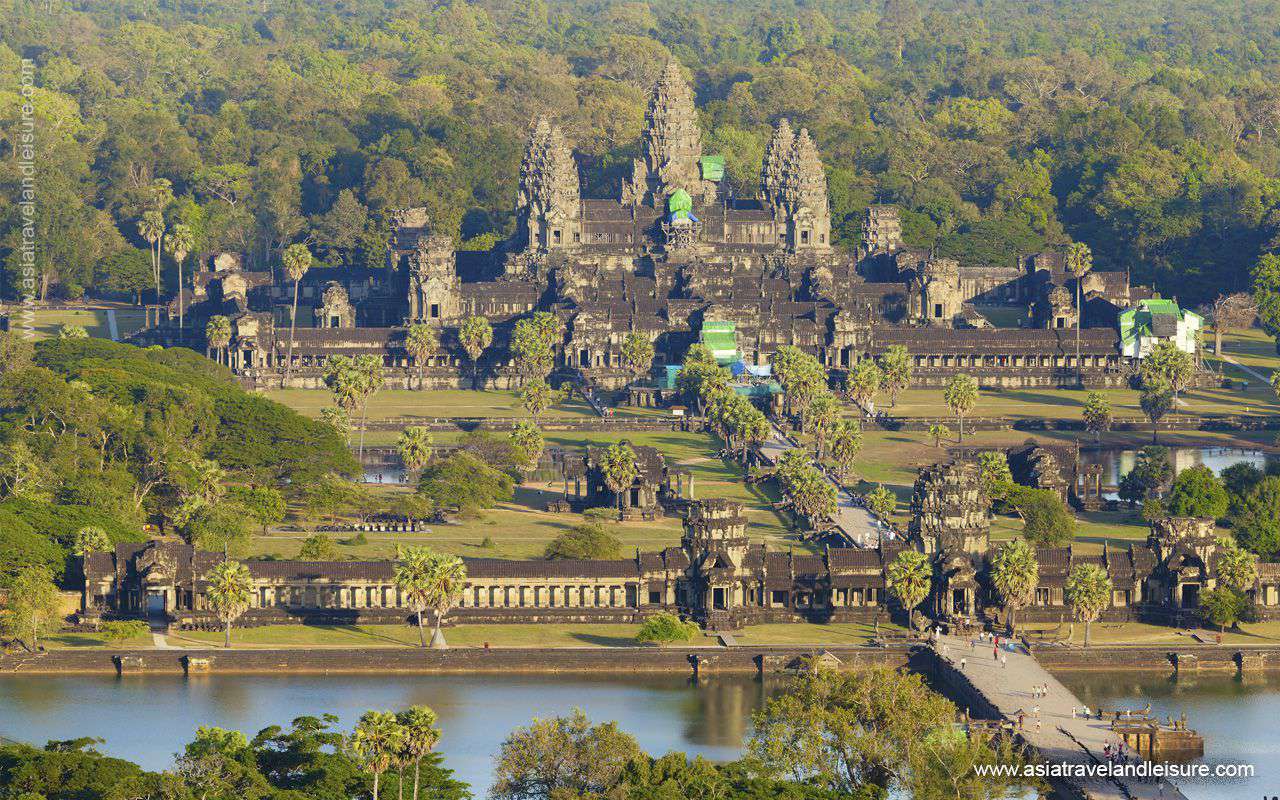 2. Cambodia adventure tour
Cities to visit: Phnom Penh - Mondulkiri - Ratanakiri - Stung Treng - Kratie - Preah Vihear - Koh Ker - Siem Reap
Taking part in a
Cambodia adventure tour
is a great way to explore Cambodia. Some of the most popular options for adventurous spirits in Cambodia such as: mountain biking, hiking/trekking, kayaking or golf. The time that you set foot on any Cambodia destinations, you become the real adventurers who conquer the challenges of mountains, beaches, caves, jungles, and many more.
2.1 Biking tour in Cambodia
One of the most adventurous activity in Cambodia is biking. Biking allows you to see daily life of local people and a broad insight into this exotic, mystical and hugely diverse country.
Join a biking tour in Phnom Penh, you will have your first encounter with Khmer culture and a chance to visit some of the city's many splendid historic buildings and markets.
The experience of riding through the rugged ways and paddy fields to the Angkor Wat is one of the most popular and interesting mountain biking trails in Cambodia. You will be amazed by the religious splendour of the temples at Angkor and enjoy touches of the French colonial past. Cambodia has been described as a beguiling country of great contradictions.
In Sihanoukville you will have time to enjoy the coast and sandy beaches. You will travel towards Kep, cycling through traditional fishing villages and take a break from our bicycles for a boat trip to Koh Tonsay (Rabbit Island), a lush tropical island with stunning white sand.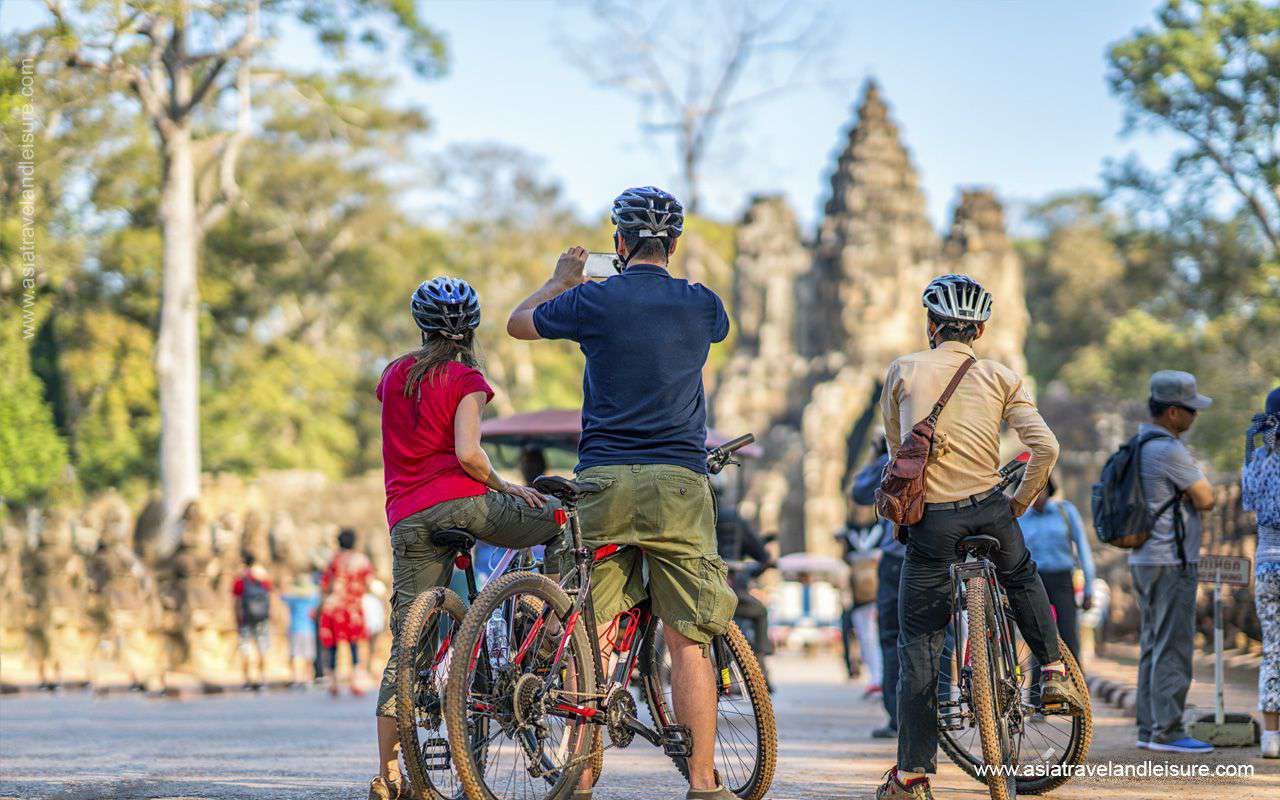 2.2 Hiking/trekking in Cambodia
Cambodia is full of off-the-beaten-track countryside that is just waiting to be explored on foot. Following some of the most popular hiking trails in Cambodia you can reach to the highest point of the kingdom and witness some of the most fascinating views of the whole country. Angkor Wat temples are the good destination for the activity by foot. The iconic temples of Angkor lie scattered over a vast area surrounded by jungle. Trekking peacefully from temple to temple on footpaths is a great experience to see them in a different light. In Cambodia's far eastern province of Mondulkiri, you can hike to waterfalls and tribal villages and enjoy the unique experience of a day walking with elephants at the Elephant Valley Project.

Trekking at Kirirom National Park Mountain Range with an experienced local guide, you will visit different attractions including a 40m high water fall, variety of plants and animals while discovering the breathtaking nature and landscape.


The Mekong River delta and endless lush green vistas make constant companion on a trek running by the Mekong River. The hike passes river towns of Kratie, Stung Treng, and Balung. Ratanakiri, Cardamom Mountain, and Virachey National Park are other areas popular among trekkers. Encounter the indigenous hill tribe people in Ratanakiri in the North East of Cambodia and take a dip in the volcanic lake of Yak Lom. Kayaking on the Sekong River and spotting the rare freshwater Mekong Dolphins are the highlights of trekking inside Virachey National Park.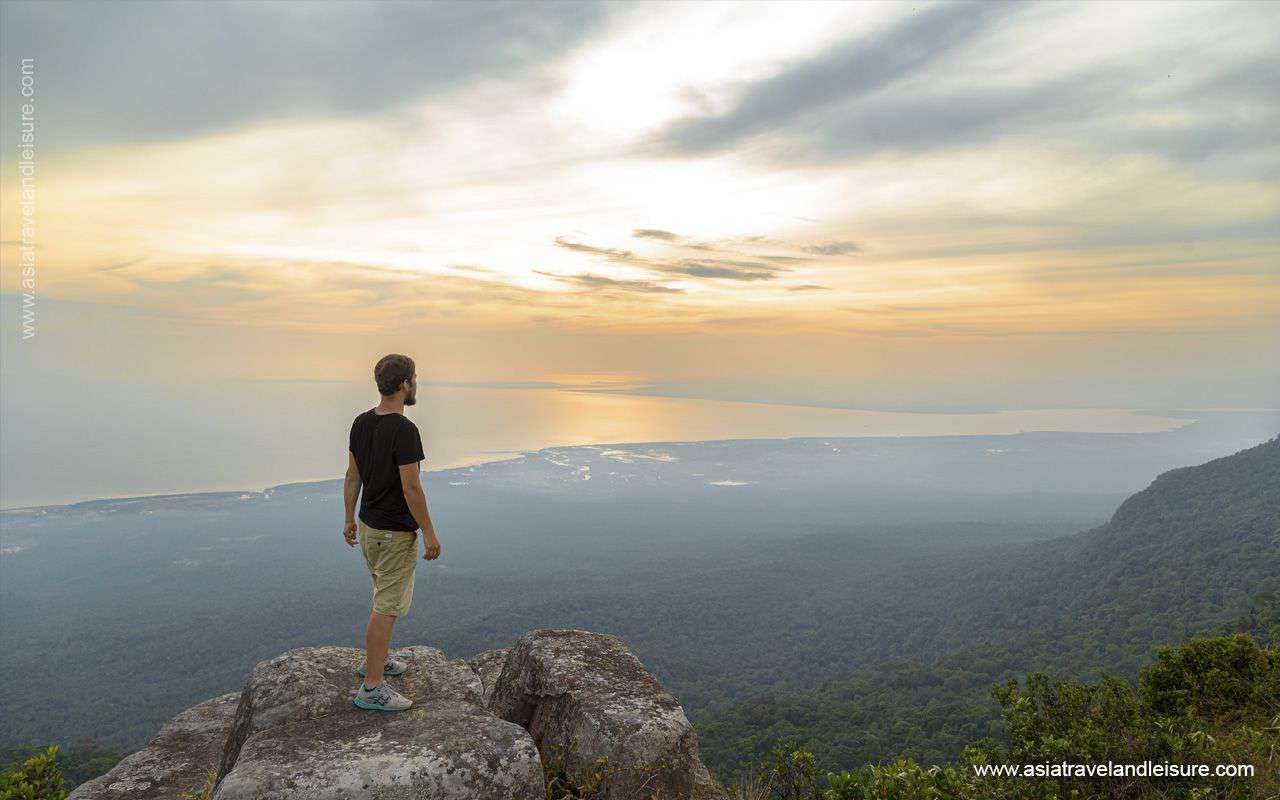 2.3 Kayaking in Cambodia
It's surprising how many places you can go kayaking in Cambodia, all you have to do is decide what's the most exciting tour for you. Kayaking tour will make you amaze in the spectacular landscapes and natural wonders of the Mekong River, relax on an island in the Mekong or on board a fishing boat at sea and specially, experience an unique adventure tour.
You can do kayak trips in remote Ratanakiri province on the beautiful Se San River, in the even more remote Cardamom Mountains at a community based ecotourism project, or on the rivers near Battambang and Kampot.
There's nothing quite like the free feeling of being out on the open water, either in a sea kayak or playing about on the river. Tonle Sap lake is an perfect option for beginners. The water is very calm, making it great for those with little or no experience kayaking. Your journey begins by witnessing the beautiful rice paddies and the daily lifestyles of the local people the paddle through the floating villages where you will be welcomed by warming smiles from the local fishermen with great scenery of a mangrove forest and see some rare birds.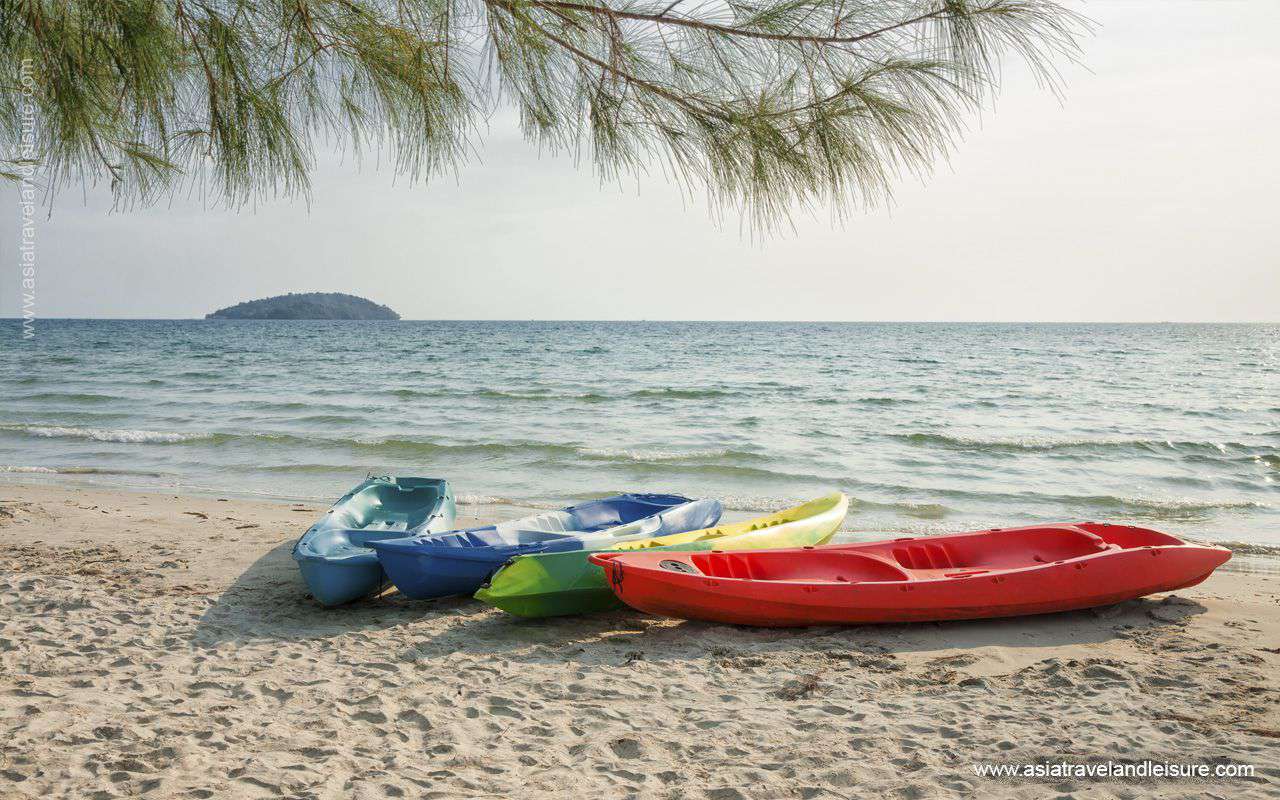 3. Cambodia Beaches offer
Cities to visit: Sihanoukville - Koh Rong island - Song Saa island - Both Otres beach
Cambodia's southern coast with plenty of wild rainforest, waterfalls and beaches to be discovered by adventurous travellers. This Cambodia Beach offers adventurous water sports facilities such as snorkeling, scuba diving, parasailing...Stunning water adventures that let you reveal the wonderful natural beauty over and under water world.
3.1 Parasailing ( or paragliding )
Parasailing over Cambodia's pristine beaches is a fun choice of activity for those who like adventurous things on holiday. Parasailing, also known as is a recreational activity where a person is towed behind a boat while attached to a specially designed canopy wing that reminds one of a parachute, known as a parasail wing.


Sihanoukville is a good destination for parasailing. Dragonfly 889 Parasailing is located at- and takes off from right next to the gorgeous Sokha Beach where fliers can soar, legs dangling, over the shimmering waters and white sandy beach.
3.2 Scuba diving/snorkeling
Scuba diving and snorkeling are two of the most popular options for Cambodia package tour in Cambodia. Enjoy world class instruction, clear waters, amazing sea life and secluded islands in some of the world explored diving sites off Cambodia's coast.

Koang Kang, K. Khteah, K. Chraloh, K. Ta Kiev, Sokha Beach, Ochheuteal Beach, Independence Beach, and Victory Beach are just a few destinations to name that have the most favorable condition for snorkeling or scuba diving. The unspoiled sea allows the travelers to view as much as 40 meters below the water surface.
A favorite when it comes to Cambodia water sports, the Koh Rong Dive Center is a great spot on the vibrant island of Koh Rong. Divers can visit some of the center's five dive sites and see a bounty of colorful underwater creatures from bat fish, to barracuda to sea turtles, and even a seahorse corral at the end of the Koh Kon reef.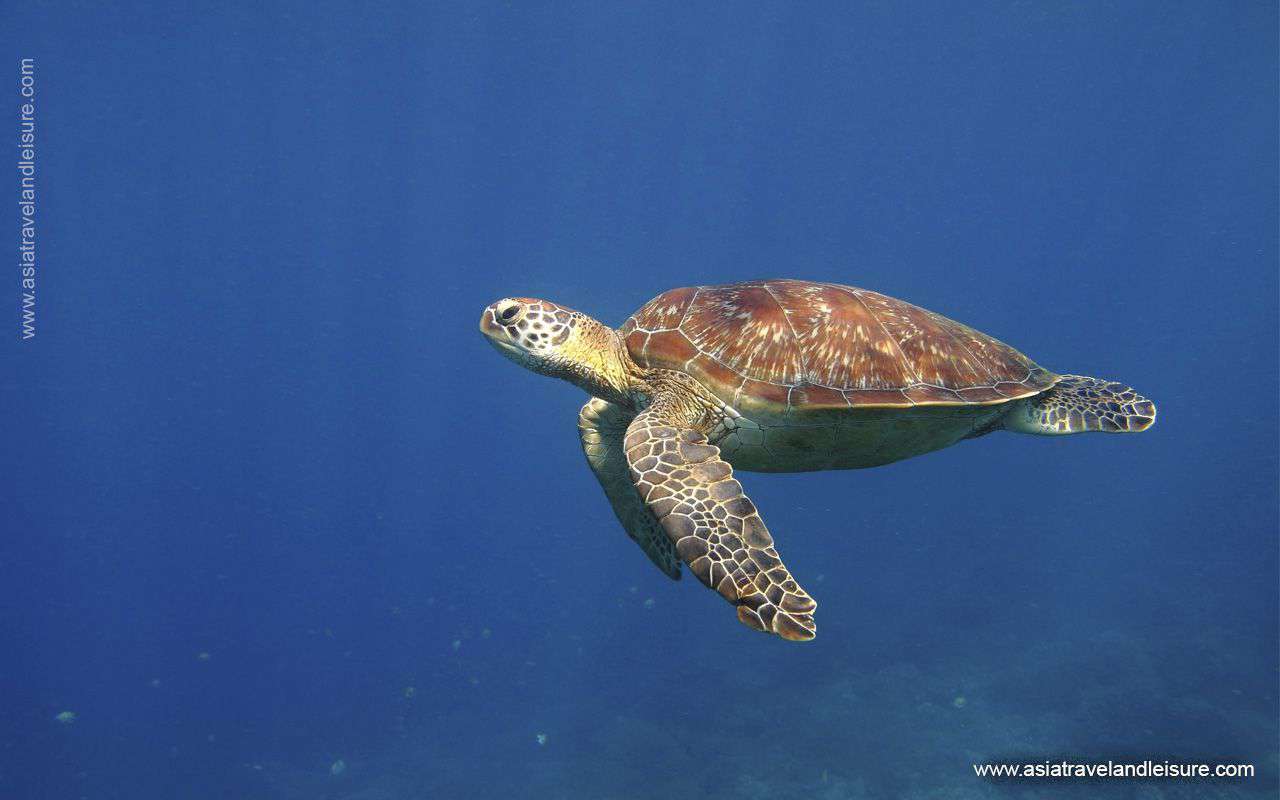 3.3 Jet ski
Jet ski is the one of the many fun things to do in water sports, Cambodia. Riding in a jet ski is an exciting way to enjoy the water and it can provide hours of fun. Sihanoukville considered to be the best jest ski center in all coastal Cambodia with dozens of water bikes to choose from of different power, size and rental price. So, you you will have an amazing journey playing with waves along with powerful hydro bike alone or with your friends.