Siem Reap is actually a fantastic choice for a relaxing destination, from temples and museums to quadbike tours and cooking classes, Siem Reap itself has lots of attractions and entertainment to offer travelers.


6. Go to the Phare circus show
The Phare Circus is a fun and entertaining activity for the whole family while traveling in Siem Reap. Phare, the Cambodian Circus, is an offshoot project of Phare Ponleu Selpak (Association), which translates into "Brightness of the Arts" in English. PPS Association is a Cambodian non-profit, non-governmental association founded in 1994 by eight young Cambodian ex-refugee artists. Phare circus trains local youths in circus, theatre and dance skills to support the children who comes from the orphanages or the streets. Today more than 1,200 students attend the school daily, while 500 attend the vocational arts programs for free.

More than just a circus, the Phare circus show is a blend of arts, music, juggling, gymnastics, traditional and modern theatre. The Cambodian Circus performers who use theater, music, dance and circus arts to share historical, modern and folk Cambodian stories. The performers all graduated from Phare Ponleu Selpak (PPSA), an NGO school and professional arts training center in Battambang, Cambodia. The young circus artists will astonish you with their energy, emotion, enthusiasm and talent.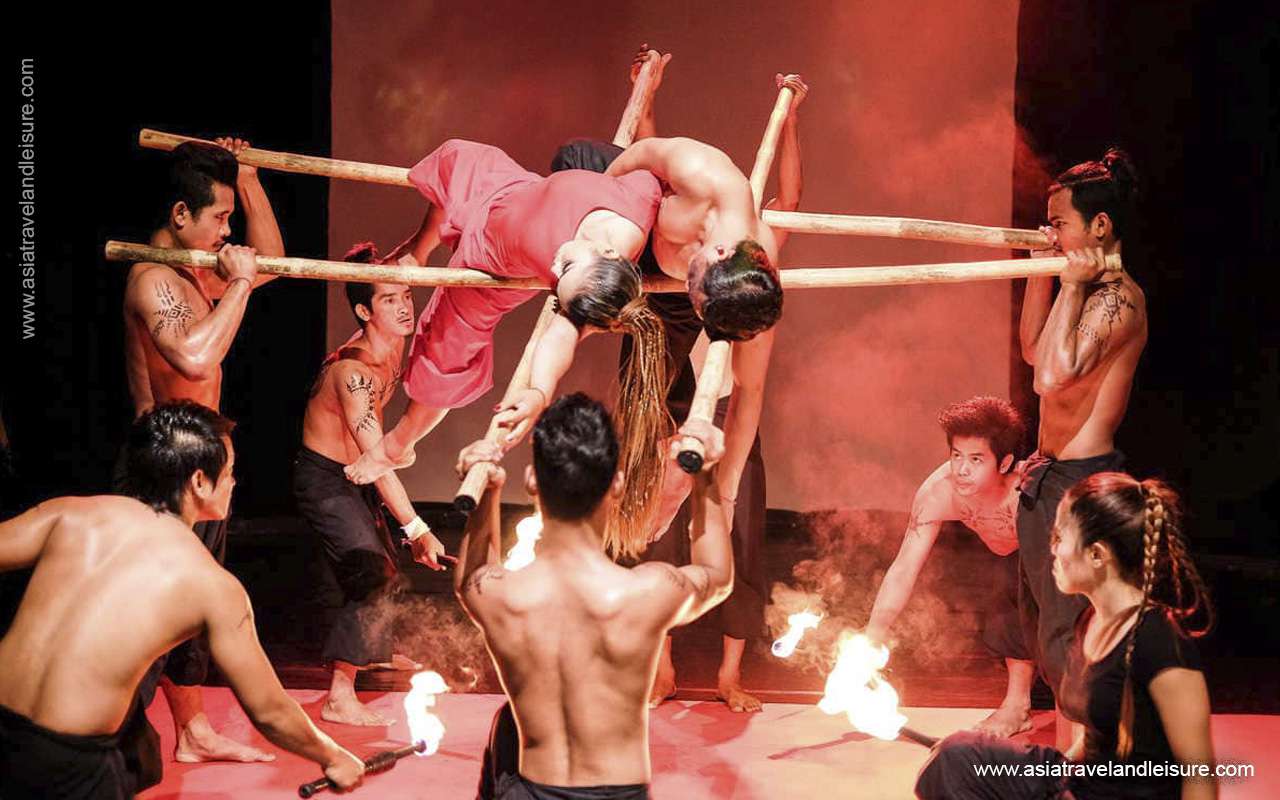 7. Eat/drink at the Pub street
Pub street is the best place to spend in the evening in Siem Reap. It is the center of Siem Reap and the fulcrum of activity in town. By day, Pub Street is full of souvenir shops, food stalls, and cafés, but by night it is transformed into the hub for Siem Reap nightlife. At night, the music is opened out loud and playing everywhere, some performing live shows and there are quite plenty of entertainment and activities for everyone to enjoy.

This lively street is full of bars, restaurants, cocktail lounges, and vibrant nightclubs that is crowded with travelers. With everything within walking distance and $1 drinks for happy hours. Drinks are variety but it is really recommended to tried local beer called Angkor. You can get one cup with $1 or $1.5.

If you are avoiding the crowd, you can eat or drink in one of the Pub street's restaurants and cafeterias along the street. All the restaurants offer reasonably priced with exotic food such as salted and roasted insects, or rice wine with snakes are a common sight on Pub street. "Red piano" is well known as Angelina Jolie used while filming "Tomb Raider." You can try the flavor of her favorite cocktail – Cointreau, lime and tonic – now named for the movie.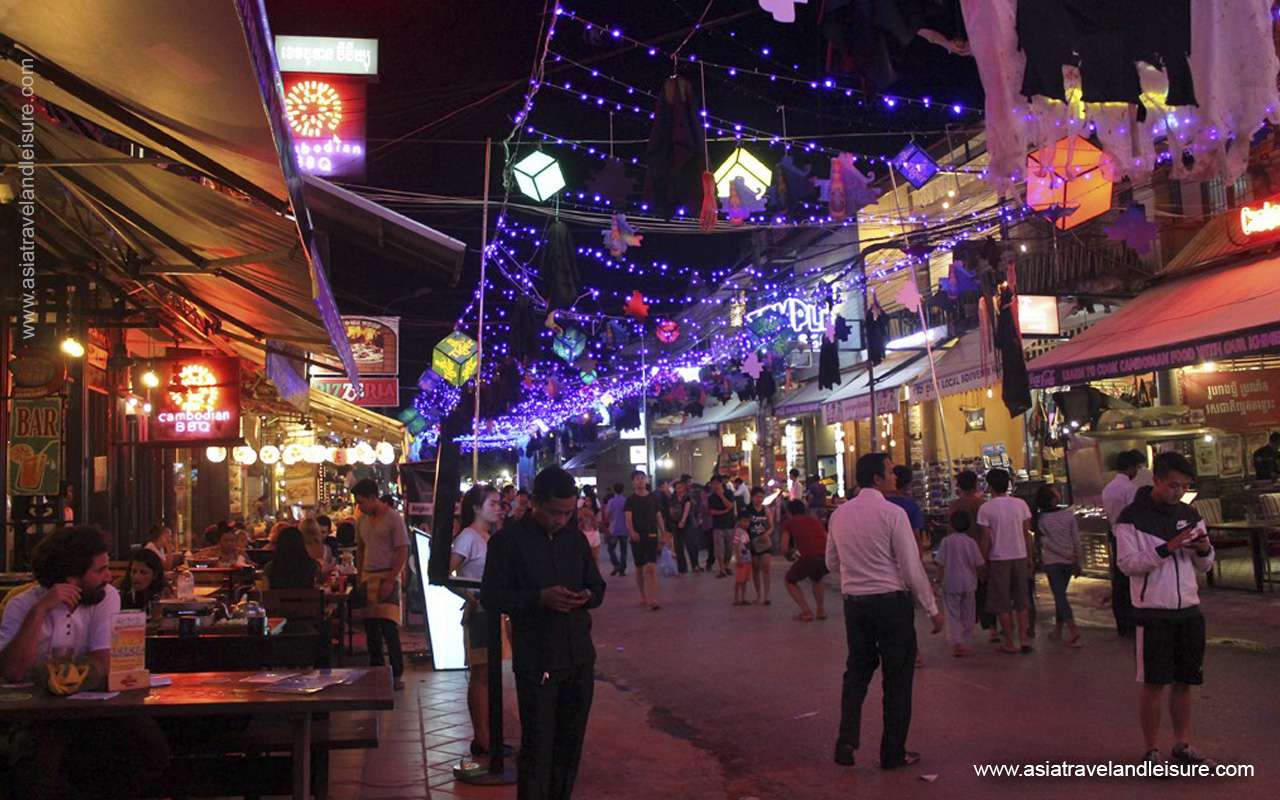 8. Take a Khmer cooking class
If you want to bring the taste of Cambodia back home with you, you can learn about the Khmer cuisine in the cooking class. Cooking classes are a fun and fascinating way to learn more about Khmer culture. Most classes start with a visit to a traditional local market here that you will see fresh produce, locally grown herbs, spices, exotic fruits and vegetables. After that, the local restaurant owners/village chef will show you how prepare the ingredients for an authentic Khmer meal. You will be preparing dishes according to the menu you choose under the guidance of the chef.

There's an abundance of cooking classes so it may be a bit harder to choose from. Beyond Unique Escapes is the most popular cooking class in Siem Reap. This is a well-organized and clean open-air kitchen and surrounded by lush, green rice fields and accessible by the dusty red roads. Set in a traditional wooden house, the cooking class is led by Chef Tola from Sojourn Boutique Villas. With his guidance, you have to set to prepare the three-course Khmer meal. Along the way you will learn about the herbs and vegetables grown at most Khmer households and used in daily cooking.

Lily's Secret Garden is unique among Siem Reap cooking classes for its home-style Cambodian cuisine. The cooking class takes place at the cozy home of Lily ( Cambodian ) and Chris ( Belgian ), where welcome you to their traditional Khmer family country house in Siem Reap. There you will experience a 100% hands-on cooking class and enjoy the delicious meal you created step by step at Lily's home.

Cooking class Le Tigre de Papier offers a wide variety of menu items to choose from. A trip to the local market for ingredients, and a small class size make this a personal and delicious experience. Located in the center of Siem Reap, it is close to Phsar Chas, a traditional Khmer food market. This class runs three different sessions of Beginner Khmer Cooking course each day. You can pick your favourite dishes (1 starter, 1 main dish, 1 dessert) from the menu.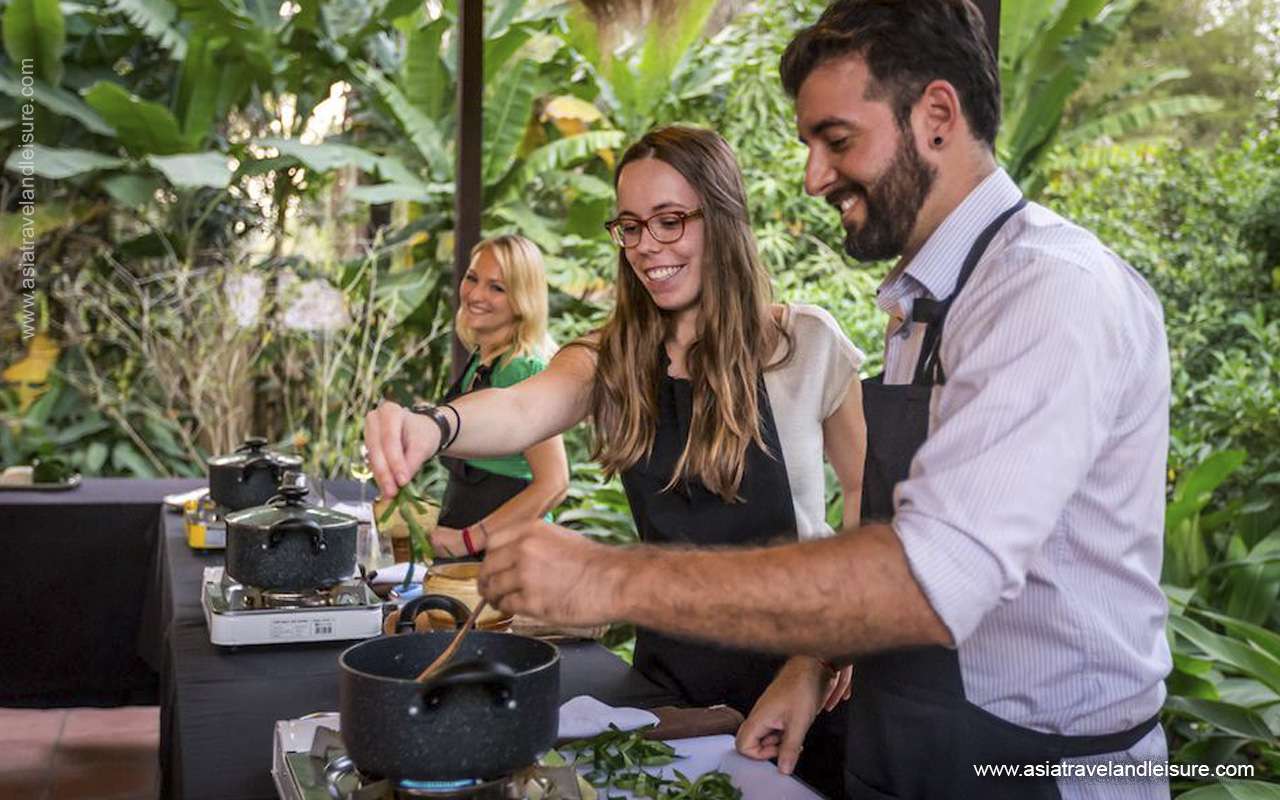 9. Visit the Old Market
Psah Chas is the old market that located in the heart in Siem Reap. This original market will give you the opportunity to explore the real culture in Cambodia. It is a great landmark for visitors to Siem Reap due to its location, which has many restaurants, bars, cafes and shops nearby and in the surrounding area.

As you enter the south side of the market near the river, the shopping streets in this surrounding area includes a number of galleries and boutiques with excellent quality items to sell. There are vendors selling traditional handicrafts and souvenirs: silver and spices, t-shirts and trinkets, carvings and jewelry, Khmer silk and paintings and photos of Angkor Wat temples.

The other half market located in the North divided into two sections: one is the wet market with meat, vegetables, seafoods and processed food product. The wet section of Old Market is located close to the central food court, where local vendors display live seafood in fish tanks and butchered poultry atop ice trays. The food stalls are an excellent opportunity to sample authentic Khmer food, invariably served with the distinctive local Prahok, a type of fermented fish paste. While the dry section offers tropical fruits, household appliances...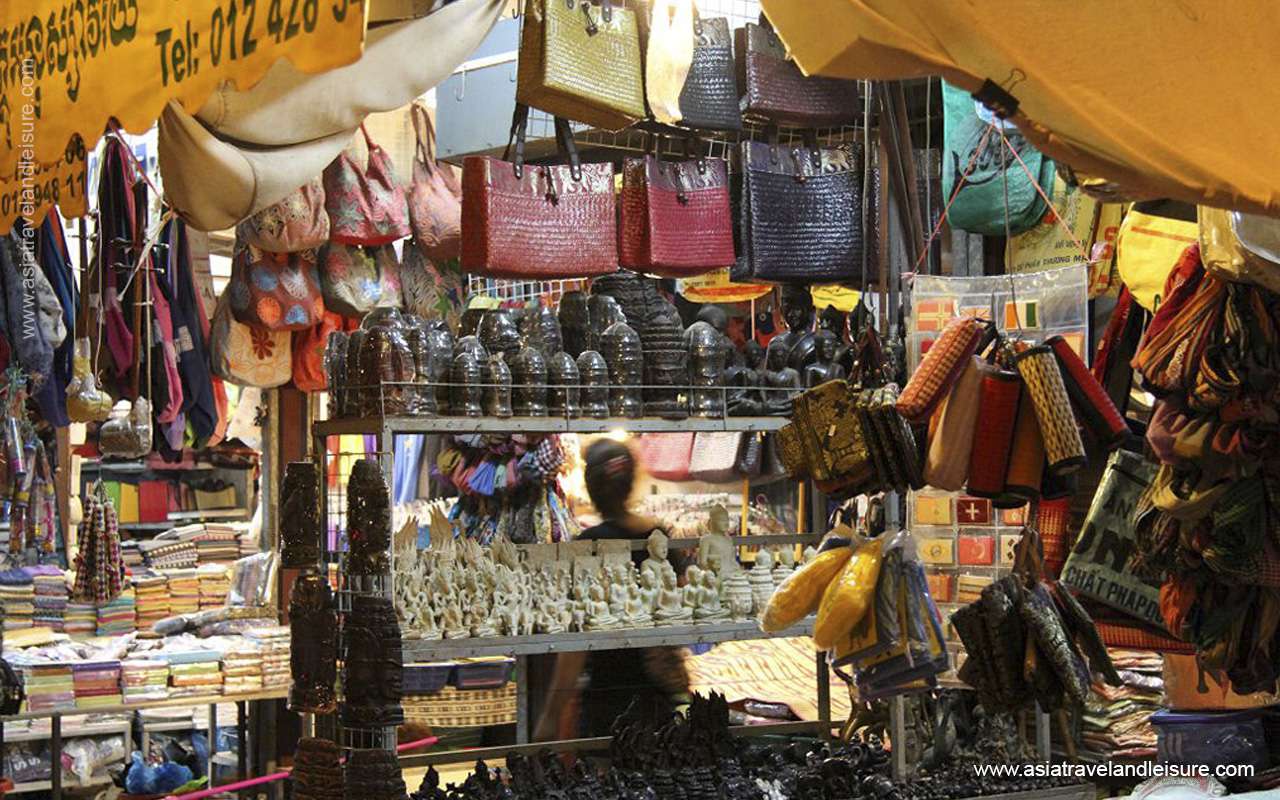 10. Explore the Night Market
The Night Market across Sivatha street from Pub street is the most exciting market in Siem Reap. It's not just a place for some bargain shopping but also a place where you can have loads of fun. After the sunset, the neon lights come on and the bustle begins. It's time to explore the hundreds of stalls from Khmer artwork and local handicrafts and trying some more delicious street food.

In 2007, the Angkor Night Market was set up, a few years later a second market opened, the Noon Night Market. Both night markets are conveniently located a few streets away from the Old Market (open in the day) and the lively Pub Street. The night markets are good places for souvenir shopping, but of course be prepared to do some bargaining. You can just about get any souvenir you want to buy in Siem Reap at this place. The variety and quality of the stuff here seems somewhat better than the old market (Psah Chas) but so is the price.

The bamboo and wood stalls of the traditional Cambodian artisans gives you a chance to learn about silk, lacquer, wood and stone sculptures. Then, have a drink served with some tapas at the ultra-chic Island bar next to the botanical garden or at the Brick House before succumbing to a 20-minute massage session at the Spa near to the island for $3. You can then fit in a 3D screening of the history of Pol Pot.