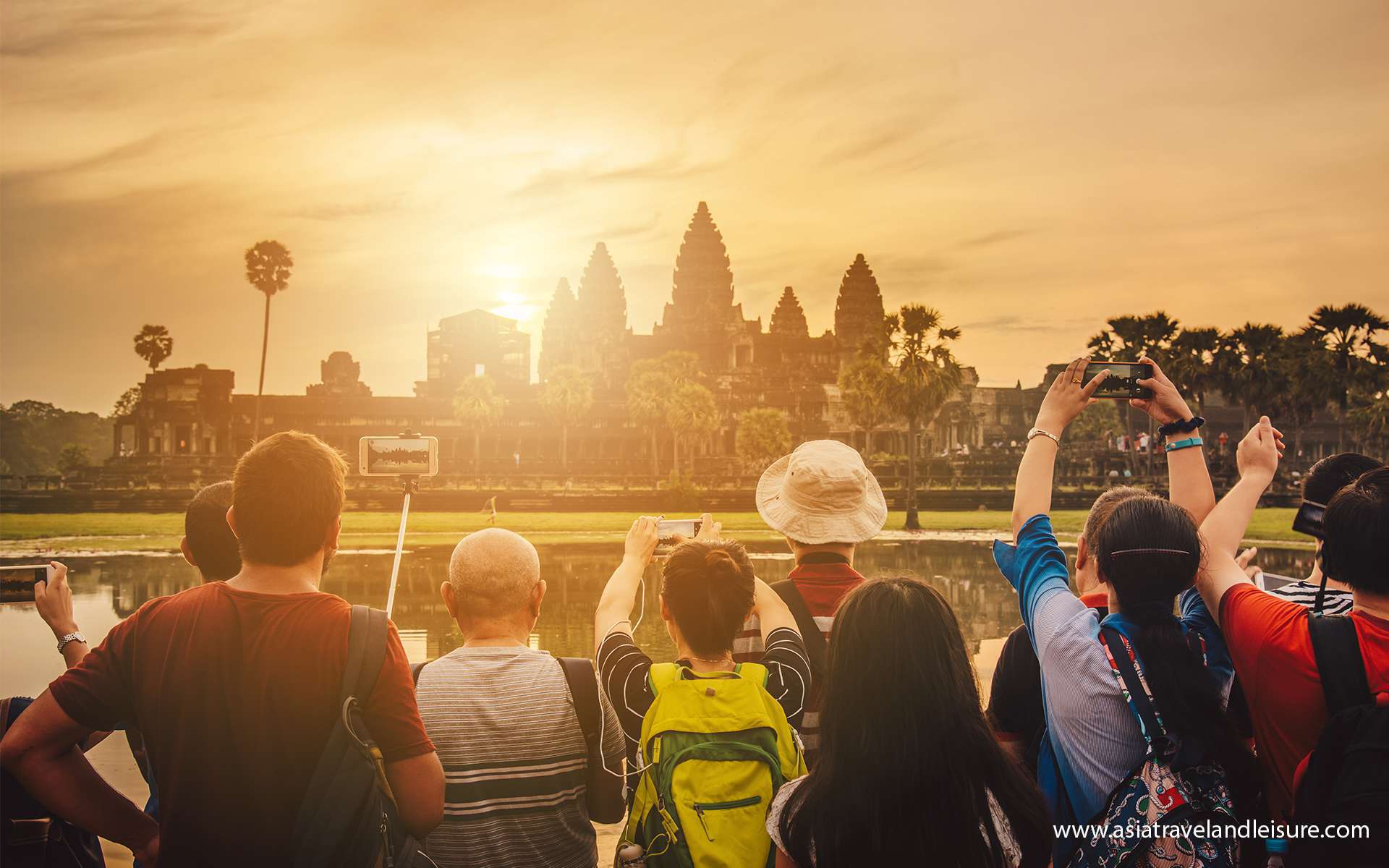 Angkor Wat Cambodia is one the most desired destinations for traveler in the world. Here are some practical tips for visiting this spiritual Angkor Wat travel package.

Angkor Wat is located in Siem Reap ( Cambodia ) which is the largest religious monument in the world. Angkor Wat, translated from Khmer (the official language of Cambodia) literally means "City Temple". Angkor Wat is one of the most significant archaeological parks in South East Asia that spans across a massive 400 km2.

1. Best time to travel Angkor Wat
The weather in Cambodia is similar to that in many other Southeast Asian countries, with two distinct seasons: dry and wet. The dry season begins from November to early April. December and January are the driest month, April and May are unbearably hot months in Cambodia, but they are also the busiest as hordes of visitors and tour buses flock to see the monuments. With low humidity and bright sunshine, this is the peak tourist season so you can book tours in advance if you're planning to travel during this time.


The rainy season begins from June to October. Despite the rain, we have some unique benefits. The hotel prices will decrease, so there are more options for travellers getting here. During the rainy season, it's less crowded and the temples are covered in moss. The plains and rice fields surrounding Siem Reap also take on a vibrant green. The countryside is full of shimmering colors. It is great to wander in the endless shining rice fields and look at calm buffalos taking baths. In fact, the rainy season is not as bad as people tend to think.

2. Transportation in Siem Reap
Getting around Siem Reap and the Angkor temples is easy and part of the fun of being here. Walking around town is convenient and safe. Unfortunately, there is no public transport in Siem Reap. There are taxis, rental cars, motorcycle taxis, and tuk-tuks available throughout the city, while renting a motorcycle or tuk tuks is also an option. Most locals use motorbike taxis ( motos ) tuk tuks for short journey around town if they don't have their own vehicle.
2.1 Taxi
You can safely hire a taxi from any of the reputable hotels and guesthouses in Siem Reap. However, it is also an expensive choice, costing between $20 and 30$ per day. Additional fees are added for trips to temples off the main circuit such as Beng Mealea and Banteay Srey. Visitors should also be aware that there is less freedom to explore the areas in between the temples using taxis.
2.2 Tuk Tuk
Tuk tuks are also a great way to get around both of the Angkor Wat temples and Siem Reap town. Most visitors and many locals travel by tuk tuks. Tuk tuks drivers speak good English, are friendly and reliable.
Short journeys around town will cost $2 - $3 per person ( seat up to four people ) and between $15 - $20 per day, depending on the duration and distance. Expect to pay more to go outlying temples and for sunrise trips. Recently, some hybrid "tuxis" ( half tuk-tuk, half taxi ) have been making the rounds in Siem Reap. The cost will charge $1 per person for short journeys such as from the Old Market to a central hotel.
2.3 Bicycle
Biking is a good option to explore the city and temples of Angkor. Local bikes cost $1 - $2 per day to hire, while recent model moutain bikes cost $8 - $ 10 per day. The project "White Bicycles NGO" help the local community and the bikes are available to hire for a number of hotels and guesthouses around town. Besides, you can hire the bikes near the Old Market and Wat Bo Road.



While bicycles are a very inexpensive transportation choice and a great way to navigate way all corners of the park, visitors should consider a few things before deciding a rent one. Temperatures can be quite high, so renting a bike should be done early in the morning. Please be sure that the bicycle is well-made and strong to avoid any travel issues.

3. Where to stay in Siem Reap
There are such an abundance of beautiful boutique hotels in Siem Reap. Budget hotels depend upon how you like to travel and what kind of holiday you want. Most hotels in Siem Reap include breakfast and offer free Wifi, and during the low season double room rates for entry level rooms can be found from as little as $25 per night for some of these properties. Rates are higher in peak season from December through February.


Listed below are some Siem Reap hotels and accommodation options to suit all budgets. Most of friendly budget hotels or hostels under $25 are just around the Old Market area. Many offer good value, providing many facilities and amenities to suit all travel expectations such as: The Golden Gecko Villa, Visoth Boutique Hotel, Oriental Siem Reap, Bopha Residence, and some best hostels such as: Mini Hut Hostels, Pool Party Hostel, Oasis Capsules Hostel...


If you are looking for a luxury hotel or resort for your Angkor Wat vacation package, then you will find a number of fabulous hotels in Siem Reap such as: Maison Polanka, Sala Lodges, Viroths Hotel. If you like the sound of a pool with peace, tranquility and exclusivity, Maison Polanka or Sala Lodges will be available for you. Your priority is shopping, eating and drinking, the Aviary hotel or Hotel Be is a good choice. If you want a pool, but prefer a buzzy atmosphere and a little glamour moment at accommodations, you can try one of the best resorts in Siem Reap such as: Shinta Mani Resort, FCC Angkor, Sojourn Boutique Villas.


4. Discover the Angkor Temples
Like most tourists visiting Siem Reap, Angkor Wat is always the destinations for the first visit in Cambodia. UNESCO inscribed Angkor Archaeological Park that hosts dozens of other temples that are equally captivating and interesting. You will need to buy an Angkor pass to visit the Angkor temples. Here is the prices for days for visiting:

- One day at $37
- Three days at $62
- Seven days at $72



There are two versions of the multi-day tickets. The older version's validity is for 3 or 7 consecutive days. The newer version's 3 day ticket is valid for any 3 days within a week, the 7 day ticket for any 7 days within a month. If you spend much times to see all the temples, the 7-day pass is available for you. If you want to visit the major temples, the 3-day pass is a good choice.



The route you choose to take pretty much determines which temple you see, but to help you decide, a few of the most impressive temples - aside from the Angkor Temples themselves - are listed below.
4.1 Angkor Wat
Angkor Wat is the largest Hindu temple complex in the world. Angkor Wat temples as one of the most important Unesco Heritage Site in South – East Asia that attracts travelers from all around the world to visit Cambodia – Kingdom of natural wonders. It extends over approximately 400 square kilometres and consists of scores of temples, hydraulic structures (basins, reservoirs and canals) that hide in the middle of lush forest area near the city of Seam Reap.


Angkor Wat combines two basic plans of Khmer temple architecture: the temple mountain and the later galleried temple, based on early South Indian Hindu architecture, with key features such as the Jagati. It is designed to represent Mount Meru, home of the devas in Hindu mythology: within a moat and an outer wall 3.6 kilometres (2.2 mi) long are three rectangular galleries, each raised above the next. At the centre of the temple stands a quincunx of towers. Unlike most Angkorian temples, Angkor Wat is oriented to the west; scholars are divided as to the significance of this. The temple is admired for the grandeur and harmony of the architecture, its extensive bas-reliefs, and for the numerous devatas adorning its walls.


Watching the sunrise over the Angkor Wat will be the amazing experience for travelers to visit Angkor temples. Most of the photographs of Angkor Wat are taken from the edge of the pond on the left as you enter. It's popular because, from that spot, the sun appears to rise behind the temple. It also gets crowded there very quickly.


4.2 Ta Prohm
Ta Prohm is among the largest of the monuments in the Angkor complex. The complex included 260 statues of gods, 39 towers with pinnacles and 566 groups of residences. Ta Prohm comprises a series of long low buildings standing on one level, which are enclosed by rectangular laterite wall (600 by 1,000 meters, 1,959 by 3,281 feet). Only traces of the wall are still visible. The center of the monument is reached by a series of towers connected with passages. Ta Prohm is the undisputed capital of the kingdom of the Trees. It has been left untouched by archaeologists except for the clearing of a path for visitors and structural strengthening to stave of further deterioration.
The temples of Ta Prohm date back to the 12th and 13th centuries. After the fall of the Khmer Empire in the 15th century, Ta Prohm fell into disrepair. For hundreds of years, Ta Prohm was swallowed up by the Cambodian jungle. Trees began to grow from the tops of the walls, and as they got bigger, they began to topple the stone walls. These ancient trees, with their invasive, gigantic tree roots, is what adds to the beauty and the mystery of Ta Prohm. Ta Prohm has been the focus of a renovation project. Scaffolding, metal supports, wooden walkways, and rope fences are being added to renovate and protect this awesome little spot in Cambodia. If you want to see Ta Prohm without hundred of people, you will wake up early in the morning to go here first.


4.3 Banteay Srei
Banteay Srei is one of the most beautiful temples in the Angkor region and gives its name to the surrounding district. Located further north of Angkor Wat and roughly a 30-minute drive from Siem Reap, Banteay Srei is further out than the main temples but most definitely worth the extra travel time. The near-perfect technique used in Banteay Srei that has resulted in many three-dimensional carvings should be high priority for every visitor.


Banteay Srei, which means "Citadel of Women," is a relatively new name for the temple. It is speculated that women built the temple as its intricate designs and adornments are too fine to be carved by hands of men. Banteay Srei is also the only Angkor temple built out of rose-colored sandstone, which aside from being more beautiful is also more lasting than the gray stones used in most temples.


This architectural design looks especially colourful in the rainy season when green algae tends to take hold. It's situated on peaceful land, with footpaths and viewpoints surrounding it. You could combine a trip here with a visit to the nearby Cambodia Landmine Museum.
4.4 Angkor Thom
The Angkor Thom was the last great capital of the Khmer empire and remained the capital of the Khmer Empire throughout its decline – and was probably fully abandoned in the 16th century.


The city of Angkor Thom is surrounded by a wall, 8m high and 12km long, with five gates (two in the eastern wall). The entrances to some of the gates are lined with statues of gods and demons holding nagas, and the gates themselves are adorned with the face of Avalokiteshvara, the goddess of compassion (although it's thought they also strangely resemble King Jayavarman VII). The wall itself is circled by a 100m wide moat. Bayon is in the center of this area, with Baphuon slightly to the west, and some of the smaller temples further north.


There are five entry gates to the city - one facing each cardinal direction and a second east-facing entrance known as the Victory Gate. Overlooking the portals are large towers topped with four huge faces, reminiscent of the stone heads at Bayon temple, pointing in all directions. It's a scene depicted in a number of other Angkor temples including Angkor Wat as a bas-relief.


The Angkor Park opens at 5.30am and this is the best time to catch the moment of the sun rises slowly in Angkor Thom. After sunrise, most tourists head swiftly back to their hotels for breakfast. So, this is the time that the temples are remarkably peaceful so that you can explore the architecture design and Khmer culture in here.