Many tourists come to Siem Reap in order to visit stunning Angkor Wat – one of the UNESCO Heritage Sites. So do you know it? Have you heard about it before? Do you want to visit Cambodia? Here is all useful information you just need to know Angkor Wat.

Angkor Wat is a temple complex in Cambodia and the largest religious monument in the world. Translated from Khmer (the official language of Cambodia), it literally means "City Temple". It is one of the most significant archaeological parks in South East Asia that spans across a massive 400 km2. Built in the early 12th century by the Khmer King Suryavarman II, Angkor Wat was dedicated to Vishnu (Hindu), a replica of Angkor Thom style of art, and was converted into a Buddhist temple in the 14th century. As the best-preserved temple at the site, it is the only one to have remained a significant religious center since its foundation.

Angkor Wat combines two basic plans of Khmer temple architecture: the temple mountain and the later galleried temple. It is designed to represent Mount Meru, home of the devatas in Hindu mythology: within a moat and an outer wall, 3.6 kilometers long are three rectangular galleries, each raised above the next. The arrangement of five peaks of the mountain with four at the corners and the fifth at its center is so amazing. There are hidden paintings. They have recently been discovered in the central tower. One chamber in the tower has a scene showing a traditional Khmer musical ensemble known as the pinpeat. It is made up of different gongs, xylophones, wind instruments and other percussion instruments.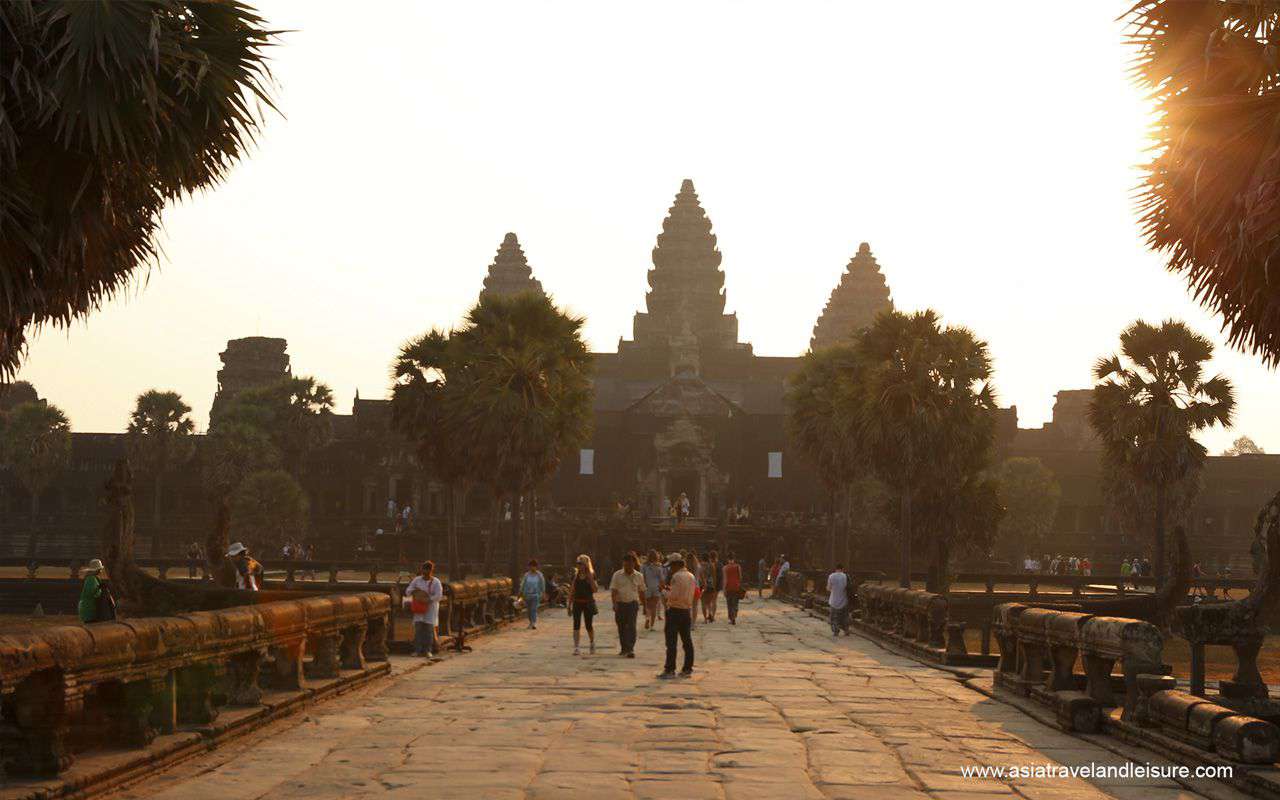 Unlike most Angkorian temples, Angkor Wat is oriented to the west; scholars are divided as to the significance of this. The temple is admired for the grandeur and harmony of the architecture, its extensive bas-reliefs, and for the numerous devatas adorning its walls. This temple is at the top of the high classical style of Khmer architecture. Its perfection in composition, balance, proportions, relief's and sculpture make it one of the finest examples of Angkorian art and architecture. It has become a symbol of Cambodia, appearing on its national flag.

About 6 kilometers north of Siem Reap, south of Angkor Thom, the most famous temple in Cambodia can only be accessed from its west gate, across a stone causeway, with guardian lions marking the way. Visiting the ancient Angkorian temples is the main reason most visitors come to Cambodia and no one wants to miss it.

Some interesting activities you can join in Angkor Wat

1. Sunrise over Angkor Wat
Watching the sunrise at Angkor Wat is an iconic travel experience when coming to Cambodia. For some people, it's hard to get out of bed in the early morning, around 4 a.m. However, it is well worth for you to exchange your sleep into the beauty of the sunrise over Angkor Wat.

You should take a tuk-tuk outside your hotels to the gate of this temple. And then try to find a prime standing spot around the lotus pond in order to enjoy the splendor of the temple. The sunrise is set for about 5:30 a.m. It is time to admire a beautiful sky filled with the vibrant red, orange and purple hues of the sun. Well, it is so nice and so amazing!

2. Angkor Wat Helicopter Flight
Exploring Angkor Complex by the normal tuk tuk or taking Angkor Wat cycling tour is quite familiar. You know, you can view the ancient temple ruins by another way. It means from above by a helicopter. This is a great way to see a panoramic breathtaking view of the temples and surrounding areas. And you also appreciate the size and beauty of this archaeological wonder. The aerial view is nothing short of outstanding.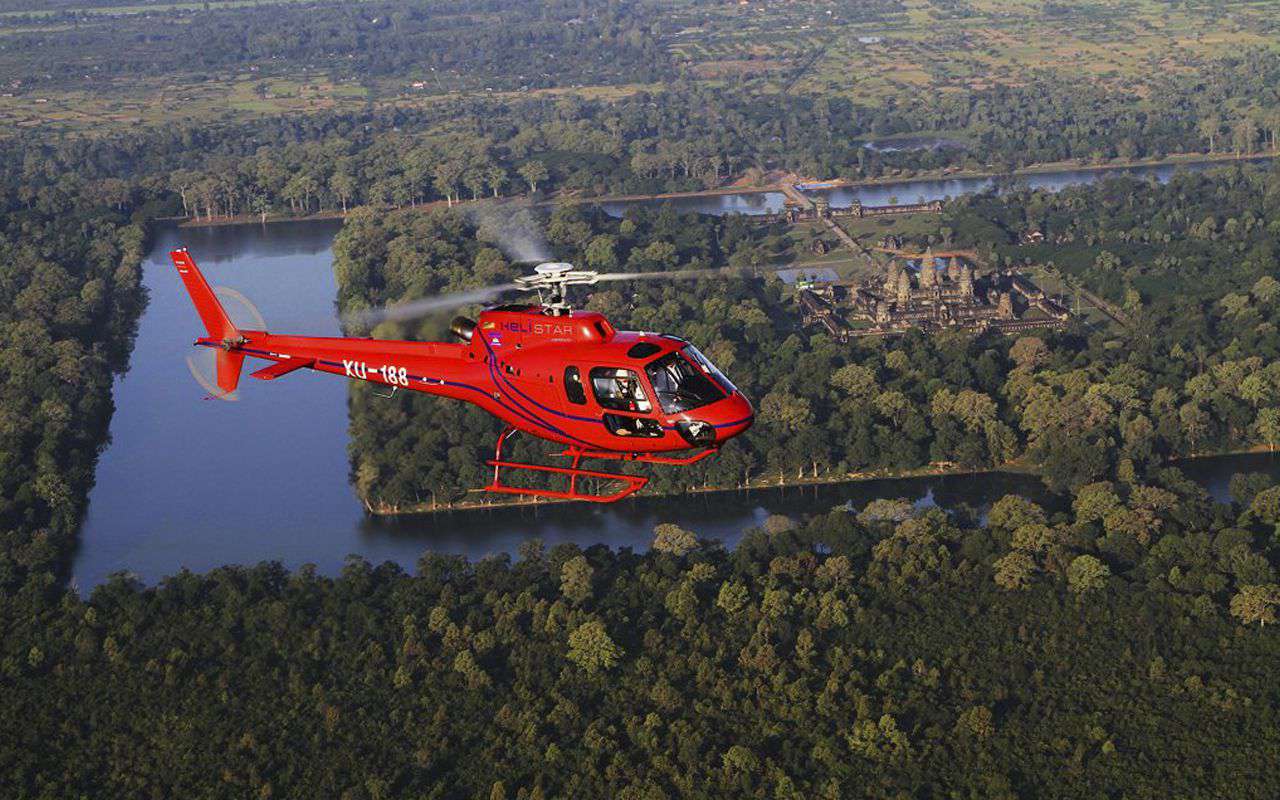 There are several tours that take different time intervals depending on your time and your budget. Most travelers love taking a 14 minute long ride. It flies above the amazing World Heritage site of Angkor Wat, Sras Srang, Pre Rup, and the picturesque Eastern Mebon Temple, views of Siem Reap City and the Western Baray, the largest man made reservoir in Cambodia. Make you trip more unique.

3. Full-day Angkor Wat tour
You have just one day to explore the amazing ancient ruins of Angkor Complex. And you have no idea where should visit since each temple has its own beauty. But there are some temples you must see to make your day tour at Angkor Wat more interesting:

Angkor Wat, one of 7 wonders of the world by UNESCO, is truly special. Its temples are full of intricate carvings and stunning designs that are a sight to behold. It's no surprise that this temple is the most visited and most photographed. Most visitors come here to watch the magnificent sunrise over this temple.
Bayon Temple, the spectacular central temple of the ancient city of Angkor Thom and the nearby Terrace of Elephants which has a 300 meter long, 2.5 meter high wall and pays homage to the much-respected elephants.


Preah Khan was built in 1191 during the reign of King Jayavarman VII. It serves today as an outstanding example of a large linear temple complex in a dense jungle setting.
Ta Prohm, a quiet monastery with a maze of courtyards and galleries. It is located in the jungle with overgrown trees and vines. This temple is so famous when it was used as a set for the movie Tomb Raider with Angelina Jolie.
Banteay Kdei, also known as the Citadel of Monks to the southeast of Ta Prohm. In this Buddhist temple, you can see thousands of monks leading their lives, following Buddhist principles and traditions.
Banteay Srei – a 10th-century Cambodian temple dedicated to the Hindu god Shiva. This one stands out from the rest because it is built largely of red sandstone, a medium that lends itself to the elaborate decorative wall carvings which are still observable today.

4. Angkor Wat cycling tour
Cycling the small tracks and minor roads around Angkor is the best way to explore a different side of the temple complex and to interact with local passers-by. You can start your tour in the morning from the majesty Angkor Wat. And also visit some nearby temples such as the former capital Angkor Thom and Ta Prohm which is famous for its massive overgrown trees. You easily hire a bicycle in Siem Reap and enjoy your Angkor Wat cycling tour in your own way.

5. Amazing Angkor Wat on Balloon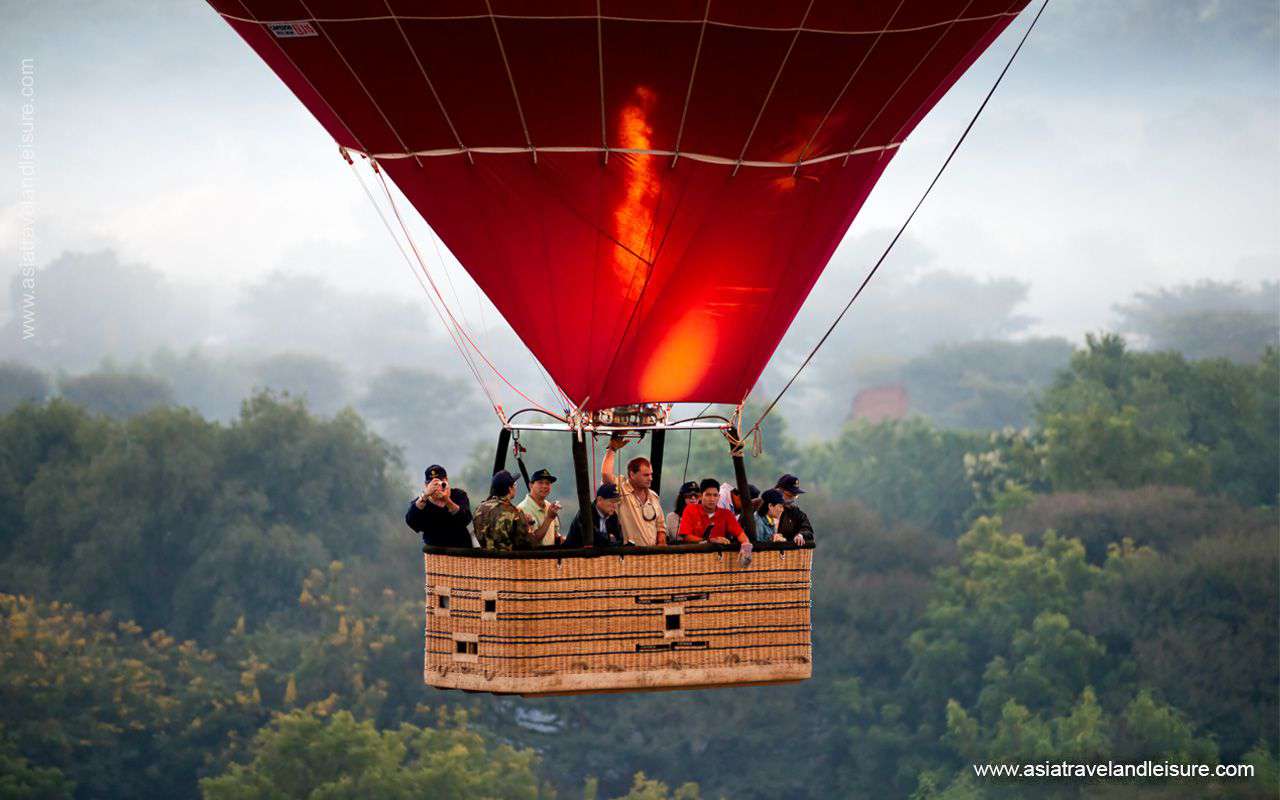 Like helicopter, a hot air balloon ride is worth trying. It will be fun and exciting. This unique activity is ideal for solo travelers, couples, family and friends. Watching the ancient Angkor Wat from bird's eyes view will give you an unforgettable experience. The panoramic views of the mountains, temples and surrounding area are breathtaking. The balloon ride opens from December to March and has two flights per day, only for sunrise and sunset in Siem Reap. Depending on the weather conditions, the balloon rises up to 200 meters and can carry up to 30 passengers per flight. The price of a ticket is $15/ per person for 30 minutes. There is only one agent providing this service. That is Angkor Balloon. You can contact local travel agent who will book for you. Or you can book service directly to Angkor Balloon and enjoy your Cambodia trip.