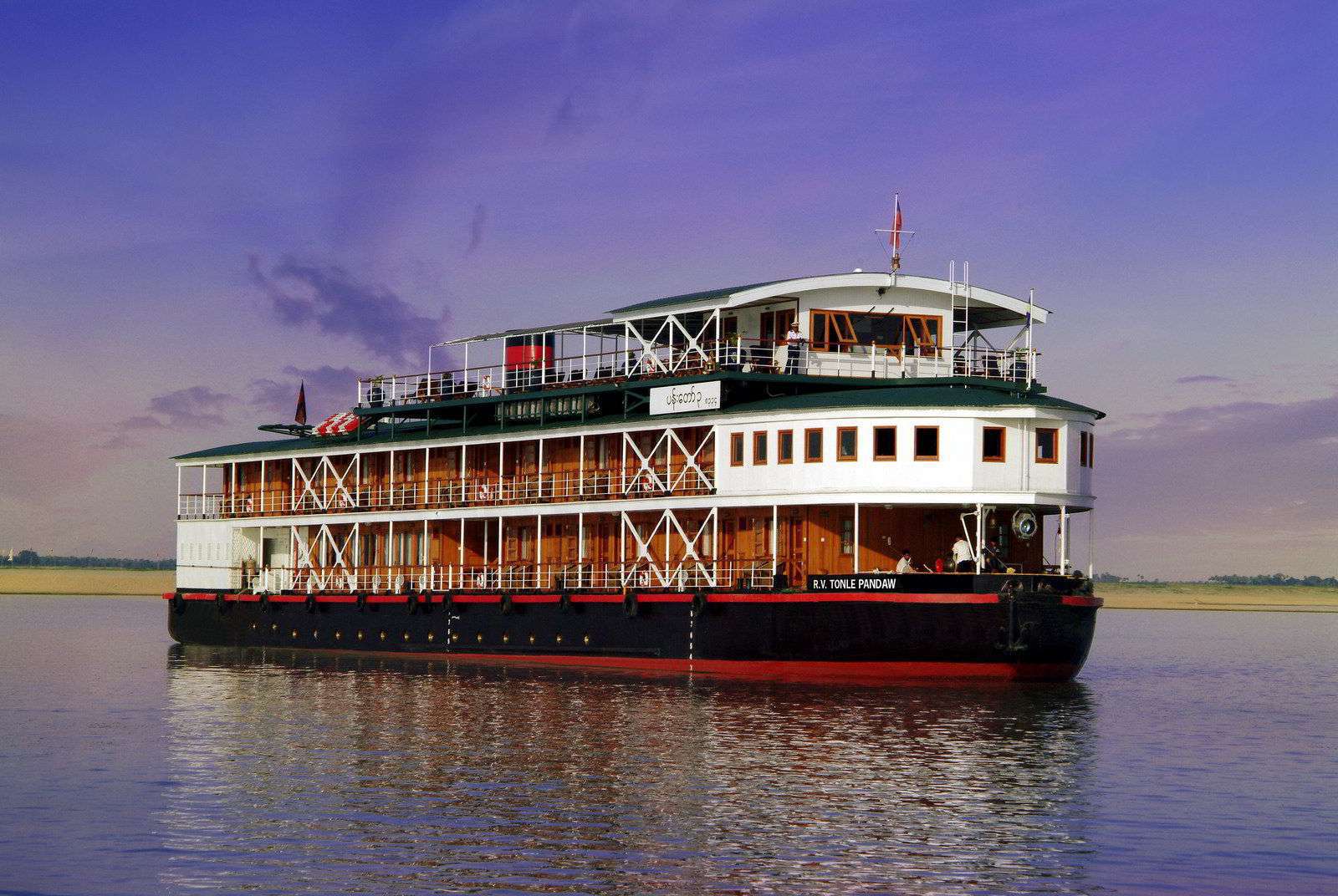 PERFECT ADD-ON TO YOUR LAND TOUR
Combine the ancient temples of Angkor in Siem Reap with Cambodia's bustling capital city Phnom Penh with this expeditions on the Tonle and Mekong Rivers.
3 or 4 nights Phnom Penh - Siem Reap from US$592

Visiting Cities: Phnom Penh – Tonle River – Kratie – Siem Reap or vice versa
Phone: +84 982 661 133
Number of Cabins: 28 rooms
Checkin time: 14:00
Checkout time: 12:00
Room rates: $ 592 - $ 1600
BRIEF
ITINERARY
PRICE
CABIN INFO
DECKPLANS
MAP
BRIEF
Sailing on a Pandaw ship is an outdoor, fresh air experience. However comfortable and roomy the staterooms, passengers prefer to spend their time sitting outside, on the promenade decks or on the vast observation deck above. Unlike most other cruise ships, every window on board (except for the portholes on the lower deck) can be opened and closed to suit your comfort.
As we sail, we find that our passengers like to sit on deck, absorbed by the awe-inspiring riverside panoramas that unfold before them. From the comfortable vantage point of a teak-floored Pandaw deck, it's hard not to become hypnotised by the unceasing human and wildlife activity that characterises the great river of Cambodia.
CRUISE INFO
- Build 2002 in Yangon, refit 2013
- Length: 180ft / 54.8m
- Beam: 33.13ft / 10.10m
- Draft: 4ft / 1.5m
- Berths: 56 pax
ITINERARY
4 NIGHTS PHNOM PENH – SIEM REAP (UP STREAM)
Phnom Penh – Tonle River – Kratie – Siem Reap
Day 1: Phnom Penh

Passengers embark the ship in the afternoon. Passengers spend the afternoon at leisure and dinner is served on board.

Day 2: Tonle River

Explorations up Tonle River to a silver making village, Kampong Trolach, and Chong Koh either by ship or by coach depending on water levels. This river is very pretty and there is a vibrant local life to be viewed along the river banks and in lesser craft.

Day 3: Kratie

Morning walk at Angkor Ban and after an all day sail through delightful Cambodian countryside we reach charming French colonial town of Kratie in the evening. No other river ships get this high but thanks to the Mekong Pandaw's shallow draft we can attempt it.

Day 4: The Dolphin Grounds

From Kratie we go further upstream using a local bus to view the dolphin grounds in a national park protected area. In the afternoon on our return downstream we stop at a curious shrine known as the Monkey Temple on the way to moor overnight near Kampong Cham.

Day 5: Siem Reap

Early morning transfer to Siem Reap. Refreshments will be provided and we will stop at Kampong Thom along the way. Arrive at Siem Reap mid-afternoon.
TRANSFERS & JOINING
Day 1: Phnom Penh
Passengers can embark the ship between 14.00 and 18.30. The ship will be moored at the tourist jetty, Sisowath Quay, near the Royal Palace.
Day 5: Siem Reap
Early morning coach transfer to the Victoria Angkor Resort & Spa in Siem Reap, arriving mid-afternoon.
Transfer by coach from Kampong Cham to Siem Reap takes approx 5 hours.
3 NIGHTS SIEM REAP – PHNOM PENH (DOWN STREAM)
Siem Reap – Kratie – Prek Kdam – Phnom Penh
Please note
: We may experience low water levels between January and April. If we are unable to reach Kratie to see the river dolphins a revised itinerary will be offered with an exciting variety of excursions.
Day 1: Siem Reap
Morning transfer by coach from the Victoria Angkor Resort & Spa to your Pandaw moored at Kampong Cham. A packed lunch will be provided on the coach and we will stop at Kampong Thom along the way. Once on board we will set sail upstream to moor overnight at Cchlong.
Your guide or purser will collect your passports at the meeting point so we can arrange the immigration formalities.
Day 2: Kratie and the Dolphin Grounds
Sail through the morning to reach Kratie, a charming French colonial river port, and after lunch visit the dolphin grounds travelling further upstream by local bus.
Day 3 Prek Kdam
Sailing down river we stop at the very curious Monkey Temple, Wat Hanchey and Angkor Ban.
Day 4: Phnom Penh
After a full buffet breakfast, we will disembark in Cambodia's capital Phnom Penh.
TRANSFERS & JOINING
Day 1: Siem Reap
We will transfer by coach from the Victoria Angkor Resort & Spa to Kampong Cham. Transfer by coach to Kampong Cham to board ship takes approx 5 hours.
REGISTRATION DETAILS
VICTORIA ANGKOR RESORT & SPA
Registration is at 11.30am
Central Park, P.O. Box 93145, Siem Reap Town, Kingdom of Cambodia
Tel: ((+855) 63 760 428
Fax: (+855) 63 760 350
Day 4: Phnom Penh
Disembark after breakfast in Phnom Penh at the International Passenger Pier at Sisowath Quay, next to Titanic Restaurant.
PRICE
Please This email address is being protected from spambots. You need JavaScript enabled to view it. our Travel Consultants for more details about the availability and best offer (promotion or early bird) or secret deals!
Above Price Included
Entrance fees
guide services (English language)
Gratuities to crew
Main meals
Locally made soft drinks
Local beer and local spirits
Jugged coffee and selection of teas and tisanes, mineral water
Transfers between the meeting point and the ship at the start and end of a voyage.
Above Price Excluded
International flights
Port dues (if levied)
Laundry
All visa costs
Fuel surcharges (see terms and conditions)
Imported beverages such as wines, premium spirits and liqueurs, fancy soft drinks like Perrier, espressos and cappuccinos at bar
Tips to tour guides, local guides, bus drivers, boat operators and cyclo drivers.
Cancellation Policy
Cancellation / Prepayment policy
BOOKING CONDITIONS
Please read the following pages prior to making your booking. Once the booking is made either directly or through a travel agent a contract exists between the passenger and Pandaw.

PAYMENT TERMS
A 20% deposit of your total booking value with Pandaw is required upon confirmation and is non refundable. Final balance must be paid 61 days before departure or the booking will be cancelled and the deposit forfeited.
Certain special offers may require higher non-refunable deposits. These will be advised to you at the time of booking.

Cruise Cancellation and Refund
Cancellations for all or any part of the trip will not be effective until received in writing in the offices of Pandaw. Should you have to cancel, the following terms will apply:
- From time of booking until 61 day prior to departure non-refundable deposit
- From 60 days and less till departure, no show, late arrival or early return 100% cancellation fee

Note: We strongly recommend for your protection that you purchase a trip cancellation insurance.
Pre and Post Reservation Cancellation and Refund
Cancellation of a Pandaw Pre or Post Reservations is cancellation is subject to a per person administrative fee from the time of booking through 61 days prior to your scheduled Pandaw trip.
- From 60 days prior to departure through 45 days prior a 0 per person penalty will apply
- From 45 days prior to 30 days prior a 75% per person penalty will apply.
- Cancellations received in our office 29 days or less prior to departure, no-show, or early return from the trip will result in forfeiture of 100% of all monies paid to Pandaw.

Because these cancellation policies are strictly enforced, we strongly recommend for your protection that you purchase trip cancellation insurance.

CURRENCY
All cruises, land tours and hotels are quoted in USD unless otherwise indicated.

PORT TAXES
On rivers where port taxes are applied by the relevant authorities, these charges will be added to your booking invoice.

CREDIT CARDS
The cruise accepts ONLY Visa and Mastercard for settlement of all cruise booking invoices as well as charges incurred on board. NO OTHER CREDIT CARDS ARE ACCEPTED. Any transactions over USD 10,000, will be subject to an additional charge of 2% and will be levied on the invoice accordingly.

Terms and Conditions of Carriage
1. Though every effort will be made to ensure that the published itinerary is followed as closely as possible, given uncertain river and other local conditions, all schedules and itineraries may be subject to alterations and delays at short notice.
2. The ship's purser and captain are jointly responsible for passengers' comfort and safety. Passengers must accept their decisions and instructions.
3. Whilst our crew do everything in their power to facilitate landings, access to the ship at certain river stations can be difficult, with steep and sometimes slippery river banks. Elderly passengers should consult their doctor to ensure that they are fit for travel. Wheel chairs are not allowed.
4. In the case of water levels being too high or low or defects to the vessel beyond the control of the company an alternative itinerary will be offered to passengers after consultation between the ship's captain and the company's management, subject to accommodation and meals being maintained on board the vessel unless by prior agreement with the passenger.
5. Should it prove difficult to embark or disembark passengers at the scheduled points the company are not liable to bear any extra cost of transporting passengers to and from the revised point of embarkation or disembarkation unless passengers or their agents have purchased a complete package tour which includes land services from us. Any reason for changing the points of embarkation or disembarkation can not count as a reason for cancelling this contract.
6. Passengers should seek advice from their doctor regarding relevant inoculations and prophylactics for travel to these countries.
7. Passengers must be fully insured to cover any risk of medical expenses and repatriation (which includes repatriation of remains) and the Company is in no way responsible for such liabilities. Passengers must settle before departure any medical bills incurred whilst on a company ship for doctor's attendance, drugs supplied, and any other medical facilities provided by the company for the passenger.
8. Once a booking has been received through a sales agent or directly from the passenger a contract exists between the Company and the passenger and these terms and conditions must be adhered to by both parties.
9. Unless otherwise agreed agents are responsible for the transfer of their passengers to and from the ship on time and in the event of a late arrival the ship is not obliged to delay departure thereby upsetting tight schedules.
10. The company accept no liability or responsibility for loss or damage to passenger's property whilst on board a company vessel.
11. During the river stops on the company provide an guide service in the English language. Foreign language guides must be pre booked and there may be extra charges for this. Personal guides must be booked at normal rates in passenger accommodation.
12. The company reserve the right to refuse to allow anyone on board if a ticket can not be produced and the company can not guarantee the exact allocation of cabins and deck location which may in the event of extenuating circumstances differ from the cabin number indicated on the ticket.
13. Within the ticket price fuel costs have been calculated on average prices as of the publication of this document. Should fuel prices rise by more than 10% the company will be entitled to impose a fuel supplement equivalent to the amount by which the fuel price exceeds the price allowed for in the contract.
14. It is not permitted to allow any breed of animal on board.
15. Children under 4 travel FREE if sleeping in a cot in the same cabin. Children from over 4 years up to 18 years old get:
- 1 adult and 1 child – 1 cabin – child receives 50% reduction from adult price.
- 2 adults and 1 child – 2 cabins – 1 cabin with no single supplement and 50% reduction for the child.
- 2 adults and 2 children – 2 cabins – 50% reduction for both children.
- Larger family groups – prices on request.
16. In the event of a dispute the law of the country in which the vessel is operating will apply.
17. The company reserves the right to change the vessel without notice.
18. Payment terms and cancellation policy is printed on an invoice issued for each booking whether for an individual or for a group. Passengers and their agents must abide these terms and the company reserve the right to either cancel an existing reservation or to refuse passage in the event that these terms have not been adhered to.
19. In the event that one passenger enters into a commercial or other form of relationship or arrangement with another passenger the company is no way liable for the obligations of one passenger to another passenger or any claim arising thereof.
20. For cruise departures where occupancy is less than 5 cabins the company reserve the right to cancel the departure giving all passengers with confirmed bookings 30 days prior notice of this intention. An alternative departure date will be offered subject to availability. If this alternative date is not acceptable to the passenger any down payments made for the cancelled cruise will be refunded. In the event that a passenger has cancelled and paid cancellation fees and the Company subsequently cancel that departure then any cancellation fees (and down payment) will be refunded in full on the request of the passenger.
21. The company reserves the right to change a cabin allocated without notice and in the event that a passenger is downgraded to a cheaper cabin then the difference in cost between the cabins will be refunded to the passenger or the passenger's agents.
22. Force Majeure: in the case of circumstances beyond normal control, such as war, civil or political unrest, strikes, catastrophes, epidemics or disruption to fuel supplies for the vessel, the Company may cancel the cruise and there will be a full refund of all monies paid by the passenger. In the event of a cruise being cancelled as a result of the above force majeure situations following the commencement of that cruise period then monies will not be refunded.
23. As the company acts as an agent of balloon flight operating companies, the company is not liable for any optional balloon flights booked on behalf of passengers (either booked via the company or by the passenger directly with the balloon flight operator). The contract and liability for any passengers booking optional balloon flights is directly between the passenger and the balloon operating company, whose terms and conditions apply.

CABIN INFO
ACCOMMODATION
18 upper deck, 10 main deck staterooms
170 square feet, finished in teak and brass
Panoramic French window, leading to personal deck space
New bathrooms with natural stone shower and branded quality fittings
Kimonos and slippers
Spa-branded amenities
Unlimited mineral water
Electric mini safe
Central AC with individual control
Imported quality linens with duvet and two kind of pillows
Premium mattresses
Convertible bed configuration
Welcome flower arrangement and welcome gift
Mirror
Multi-configuration plugs
Generous closet space and under-bed storage
Hair dryer
Daily nightly turndown service
24h laundry service
Complimentary evening canapés.
DECK PLAN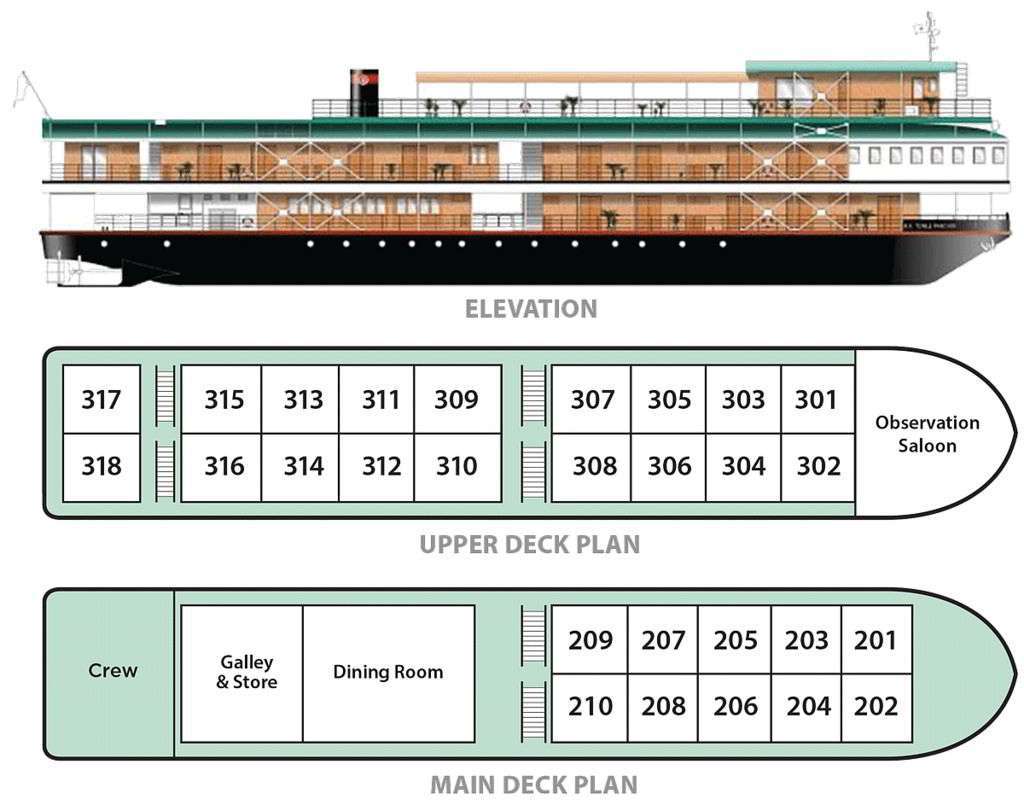 MAP