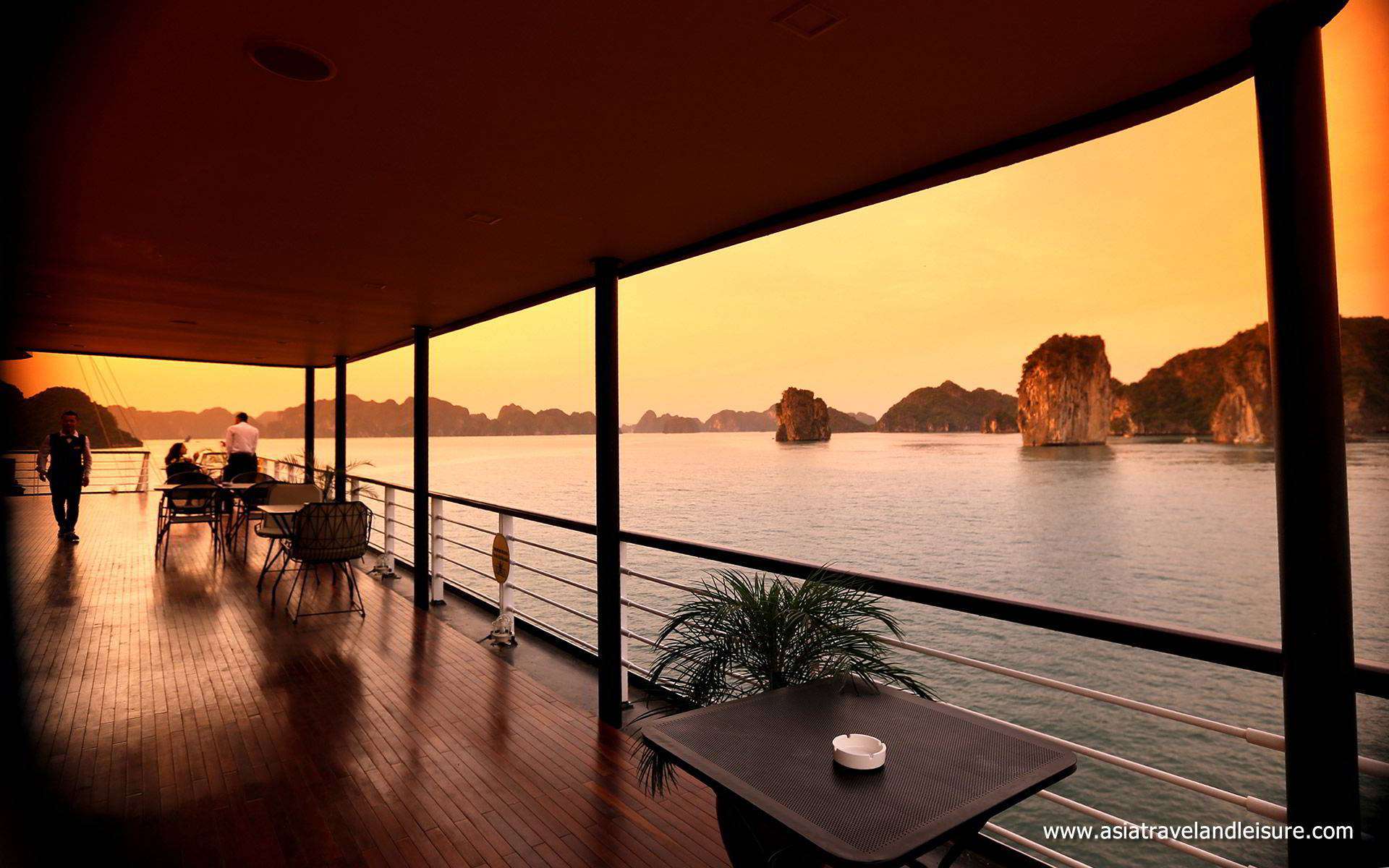 Indulge in the best very best of Vietnam and Cambodia on this one of a kind private luxury tour. Designed to capture the essence of this mysterious region, this awe-inspiring itinerary is meticulously crafted to invite you, in elegance and style, into Southeast Asia's "window of the past."
"Angkor Wat to Halong Bay 8 Days"
2017-03-24 01:56:19
"Angkor Wat to Halong Bay 8 Days"
Start city: Siem Reap (Cambodia)
End city: Hanoi (Vietnam)
Duration: 8 Days 7 Nights
Departure: Private Tour. Daily, upon your request.
Cities to visit: Siem Reap - Hanoi - Halong Bay
- Extendable with optional tours from Siem Reap (Cambodia) and from Hanoi (Vietnam)
Note: Tour requires minimum of 2 passengers to operate
BRIEF ITINERARY
Day 1 Siem Reap Arrival||
Day 2 Siem Reap Angkor Wat - Angkor Thom - Ta Prohm||
Day 3 Siem Reap Tonle Sap - Afternoon Free||
Day 4 Siem Reap - Fly to Hanoi||
Day 5 Hanoi City tour - Dinner at hotel||
Day 6 Hanoi - Halong Bay||
Day 7 Halong Bay ||
Day 8 Halong Bay - Hanoi Departure
Prices are quoted in US Dollars per person, double occupancy.
Day 1 : Siem Reap Arrival
Welcome to Siem Reap, the provincial capital and gateway to the ancient Angkor temples. Designated a World Heritage Site by UNESCO, the Angkor Archaeological Park encompasses dozens of temple ruins including Bayon, Angkor Thom and the legendary Angkor Wat. Upon arrival, our driver and a tour guide will welcome you at the airport and take you to the hotel to check in.
Meals: None.
Accommodation: Hotel in Siem Reap.
Day 2: Siem Reap Angkor Wat - Angkor Thom - Ta Prohm
Wake up early to be transferred for picking up the most beautiful, haunting and spiritual moment to visit magnificent Angkor Wat at dawn. This special activity is designed also to help you see "the Temple reflex on the water" when it's much cooler. Angkor Wat, the UNESCO World Heritage Site, which was constructed by Suryavarman II who reigned Cambodia from 1113 to 1152 and built the five towers in the 12th century and dedicated them to the Hindu God Vishnu. The plan of the pyramidal conception of the temple combined with spaces, alleys and ditches is an ancient masterpiece of architectural design and construction.
Back to your hotel for breakfast.
Your journey continues to Angkor Thom, first with its South Gate, which is famous for its majestic doors and artifacts. The next visit will be the monumental temple of Bayon, the heart of Angkor Thom. Later, visit the Elephant Terrace, Terrace of the Leper King and Takeo "Jewel of Crystal", which is dedicated to the Hindu God Shiva and was erected at the end of the 10th century. Leaving Angkor Thom by the North Gate, you travel to Preah Khan (Sacred Sword), one of Angkor's largest temples, constructed in the 12th century by Jayavarman VII. You should not miss Ta Prohm Temple, which is a wonderful combination of human genius and natural beauty with its giant trees that have grown there for centuries.
Later this afternoon, transfer back to the hotel where you will spend the rest of day on your own.
Meals: Breakfast.
Accommodation: Hotel in Siem Reap.
Day 3: Siem Reap Tonle Sap - Afternoon Free – Phare Show (Section A)
Enjoy your breakfast at hotel, you will take a break from visiting temples and enjoy a boat ride, in a traditional wooden boat, on the Tonle Sap. This is the largest permanent fresh-water lake in South Asia and flows into Tonle Sap River, joining the Mekong in Phnom Penh. We will see a "floating village" – boats have been converted to look like houses and the "village" move from place to place following water levels. We continue to one of the city's lively open markets, Psar Chass, called the "Old Market", where you can know more about the local life!
Back to your hotel for relaxing before our driver meets you again and take you to Phare show at Cambodia Circus Centre to expect the unexpected. More than just a show, Phare performers use theater, music, dance and modern circus arts to tell uniquely Cambodian stories; historical, folk and modern. The young circus artists will astonish you with their energy, emotion, enthusiasm and talent.
Meals: Breakfast.
Accommodation: Hotel in Siem Reap.
Day 4: Siem Reap - Fly to Hanoi
You are free at your leisure until the driver takes you to the airport for the flight to Hanoi.
Welcome to Hanoi: Vietnam's bustling colonial capital. Your guide and driver will meet you outside the baggage claim of Noi Bai Airport and take you to your hotel in the city center.
Meals: Breakfast.
Accommodation: Hotel in Hanoi.
Day 5: Hanoi City tour - Dinner at hotel
This a day tour is carefully designed for you to have a deep insight into the city culture. The tour includes not only all the city key sites but also the places where the others don't come.
First, you'll be picked up by our expert guide and driver from the desired hotel to Ngoc Ha village. Originally formed long ago as a flower village for the city daily consumption, it is now just like an oasis surrounded by the high- risers due to the urbanization. Herein, the circle walk starts from the village communal house and ends by the Hữu Tiệp Lake where is the wreckage of a B52 that was shot down in the famous Christmas bombing of 1972. The village shows a great contrast between now& past. Additionally, when you take a walk through the village you'll have a chance to view and experience the local life and interact frequently.
Then, the trip will continue with a visit to the historical Ba Dinh Square that is a perfect place to review the Vietnam's modern history. You will walk just outside the Mausoleum to the Uncle Ho's House, the Presidential Palace and the One Pillar Pagoda - all "must see" landmarks.
In the afternoon, proceed to the famous Temple of Literature that was built in 1070 and best known as the First National University. Next, visit another key site of the Hanoi Hilton where the POW's were formerly imprisoned.
Now, it's time to chill out with a cyclo ride through the Old Quarter. The charming area comes out with its small alleys, old houses, charming little cafes, boutique shops and variety of food on the street, such as corn on the cob, juicy mango or young rice wrapped in lotus leaf. ….Disembark to start a walk from the City Gate O Quan Chuong which is the only one remaining through Thanh Ha local market, bustling streets& alleys.
Continue with a traditional Water Puppet Performance – a unique Vietnamese Art form hailing from Southeast Asia's wet-rice culture.
In the evening, savor a dinner at the Beaulieu Restaurant offering the best French cuisine in Hanoi.
Meals: Breakfast and Dinner.
Accommodation: Hotel in Hanoi.
Day 6: Hanoi - Halong Bay
Around 8:30am, our driver will meet you at hotel lobby and take you on 3 hour driving to Halong Bay.
11.30 Check-in at Paradise Suites Hotel - Tuan Chau Island
After arriving at Paradise Suites Hotel on Tuan Chau Island, you will be transferred to Paradise Elegance.
12:30 Embark on Paradise Elegance
Once you have been transferred to Paradise Elegance, you will be checked-in and given a short briefing about your cruise while sipping your welcome drink at Le Marin Restaurant.
13:00 Lunch at Le Marin Restaurant
Lunch will be served in the Le Marin Restaurant while Paradise Elegance cruises the islands and islets of stunning Halong Bay.
14:00 Cruise Halong Bay or indulge in Spa Treatment
After lunch you can take time to contemplate the beauty of Halong Bay or alternatively, can opt for an afternoon of pampering at Le Parfum Spa*.
14:30 Visit Tung Sau Pearl Farm or kayak*
Your first excursion is a visit to Tung Sau Pearl Farm, an area in Halong Bay dedicated to growing pearls and practicing a handmade technique based on Vietnamese tradition and Japanese technology. This is also an ideal destination for kayaking. If this excursion doesn't take your fancy, stay on board and treat yourself to a delicious afternoon tea.
16:00 Visit to Sung Sot Cave
Your second stop of the day is the magnificent Sung Sot Cave, where you can take in the panoramic views across Halong Bay.
17:45 Pre-Dinner Sunset Cocktails* at Le Piano Bar and Cooking Demonstration
Paradise Elegance will anchor overnight at Coconut Tree Island and you can watch the sun set over the Bay. Enjoy music and Pre-Dinner Sunset Cocktails* at Le Piano Bar, followed by a cooking demonstration on the L'Odyssée Sundeck.
19:30 Dinner at Le Marin Restaurant
Tantalise your taste buds with the selection of Western or Vietnamese cuisine on offer in Le Marin Restaurant. Eat on the restaurant, or choose a special spot anywhere else on board to dine. After dinner, adjourn to the Le Piano Bar for live music or simply chill out in your cabin with movie for a romantic night in.
(Please note that live music is not available on Mondays.)
Meals: Breakfast, Lunch and Dinner.
Accommodation: On Cruise.
Day 7: Halong Bay
06:30 Tai Chi on L'Odyssée Sundeck
Start your second day on the right way with a relaxing Tai Chi session on L'Odyssée Sundeck as the sun rises, followed by a light breakfast at Le Piano Bar.
07:45 Breakfast at Le Marin Restaurant
After your breakfast is served in Le Marin Restaurant; it's the time to get ready for another exciting day exploring Halong Bay.
08:30 Transfer to the Paradise Explorer tender for excursions
Keep in mind to bring along your necessary accessories to make the most of Halong Bay excursions.
09:00 Visit Ti Tov Island
You will visit popular Ti Tov, where you can go swimming or hike to the top for another stunning panoramic view of the Bay.
10:30 Cruise to Trong Cave Area and Trinh Nu Cave
After visiting Ti Tov Island, your next stop will be Trong Cave in Bo Hon Island. Inside the cave, all visitors will be surprised by so many stalactites hung down from the ceiling. This is also an ideal destination for those who would like to kayak.
12:00 Lunch in the restaurant
After your morning excursions, re-energize yourself with a fresh and delicious lunch in the restaurant.
14:00 Take a trip to Cua Van Floating Village by bamboo boat or kayak*
Discover Cua Van Floating Village - the largest of the five remaining floating fishing villages in the Bay. You will be transported there by bamboo boats, rowed by locals. The more adventurous can opt to kayak*.
15:30 Return to Paradise Elegance
17:45 Pre-Dinner Sunset Cocktails* and Cooking Demonstration
The Paradise Elegance will once again anchor overnight at Coconut Tree Island. Watch the sunset over the Bay while enjoying music and Pre-Dinner Sunset Cocktails* at Le Piano Bar, followed by a cooking demonstration on the L'Odyssée Sundeck.
19:30 Second dinner aboard Paradise Elegance
Relish your last night on board with dinner at Le Marin Restaurant on L'Odyssée Sundeck or in your cabin. Once again, Le Piano Bar offers live music (except on Mondays) after dinner if you are not ready to call it a night. Alternatively, you can return to your cabin for a relaxing evening watching in-room movies.
Meals: Breakfast, Lunch and Dinner.
Accommodation: On Cruise.
Day 8: Halong Bay - Hanoi Departure
06:30 Tai Chi on L'Odyssée Sundeck
Start the day afresh with healthy Tai Chi session on L'Odyssée Sundeck, followed by a light breakfast, coffee and pastries at Le Piano Bar. Indulge yourself in one last spa treatment at Le Parfum Spa* or simply relax on board.
08:00 Breakfast at the restaurant
Breakfast is served in Le Marin Restaurant to revitalise you for the day ahead. On the way back to Paradise Harbour, Paradise Elegancine will pass by Thien Cung and Dau Go Caves and the Fighting Cocks Islet. Our reception area will assist you check out and settle your bill.
10:30 Return to Tuan Chau Marina
After disembarking from the Paradise Elegance, our driver waits for you at drive you to the airport for departure.
You will arrive the airport around 3pm. So you should book a departure flight after 5pm.
End of services. Goodbye and See you again!
Meals: Breakfast.
Accommodation: N/A.
How do I pay when I want to book this tour?
- We accept payment by debit/ credit card (Visa, Master, Amex), cash and bank transfer.When you confirm a booking with us, we will send you our online payment link or bank details to deposit 30% of the total tour cost. The balance will be due as soon as you arrive in Cambodia. Our travel consultants will give more details via email about payment instruction.
Are the rates displayed per person or per room?
- The prices shown on our website are per person based on twin/ double accommodation.
I am wonder if it is a private or a group tour?
- We only arrange private holidays and adventures – for a solo traveler, couples, families or a party of friends (no min or max passengers) – rather than impersonal group tours. You are never just another seat number. Our purpose is to offer the best travel experience at the keenest price.
Are taxes and service charges included in rates?
- Yes. The prices are inclusive of all taxes and service charges.
Any surcharges if my travel dates are during Christmas or New Year Holidays?
- The rates are regular price and they are not included a compulsory dinner (Gala dinner) on the day of Christmas or New Year Eve. Surcharges depend on specific hotels you stay at, so our travel consultants will give further information to you in communications.
What meals are included?
- Our tours include daily breakfast at hotels and some other meals as stated in the itinerary (see day by day).
Is the tour with fixed departure dates, accommodations?
- No fixed departure dates and an extensive choice of hotels – your holiday, your way. You can depart on any dates at your favor, stay at any hotels on your special interest. Just give your ideas to us then we will customize the tour with best offer for you.
How to change or cancel my reservation?
- We only run private tour, so the itineraries are very flexible. You can change or amend your schedule in advance or during your trip but surcharge maybe applied according to our contract with local suppliers, hotels and airlines. Regarding cancelation terms, please check out this link: Terms & Conditions
Is cambodiatours.com trusted
- www.cambodiatours.com is a member of and operated by Asia Travel & Leisure Management Group. More information about us at: www.asiatravelandleisure.com
Want to Ask a question?
Accommodation with daily breakfast at selected hotels
Private tours, transfers and all services as mentioned in the itinerary
Services of a private driver and air-conditioned vehicles
Service of English speaking guides in every location
Entrance fees for all mentioned sights visited
Meals as mentioned in the itinerary
Boat Trips
Flight: Siem Reap – Hanoi
International flights
Meals other than those mentioned in the itinerary
Early check-in and late check-out at hotels (check-in time 14:00; check-out time 12:00).
Personal expenses (such as laundry, telephone, drinks, etc.)
Tips for guides and drivers
Personal travel insurance
Visa stamp fees (more at www.travelcambodia.com/visa)
Did you know? All of our tours are private and daily depart.
Cambodia Tours
can organize any additional accommodations, domestic and regional flights.
Call us on
0084 858 919 559
to speak to one of our experts.