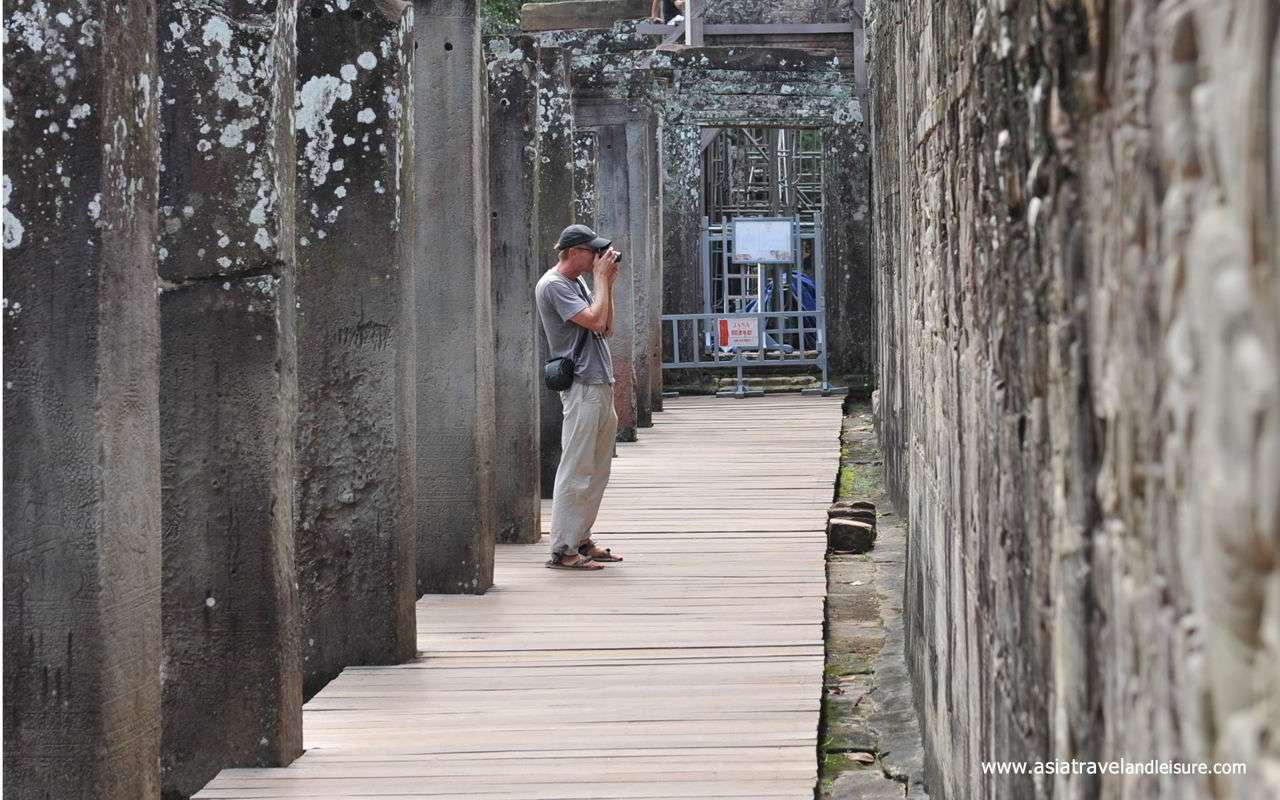 For 13 days explore Cambodia's rich culture and history on a tour that takes you deep into the heart of the Khmer Kingdom. Discover the ancient Angkor temples and enjoy a rustic homestay; see the endangered freshwater dolphins that inhabit the Mekong and visit Cambodia's bustling capital city. This vacation includes all of Cambodia's highlights, offering something for everyone.
"Explore Cambodia 13 Days"
2017-03-24 01:56:19
"Explore Cambodia 13 Days"
Start city: Phnom Penh
End city: Siem Reap
Duration: 13 Days & 12 Nights
Departure: Private Tour. Daily, upon your request.
Cities to visit: Phnom Penh - Mondulkiri - Ratanakiri - Stung Treng - Kratie - Preah Vihear - Koh Ker - Siem Reap
- Extendable with optional tours from Phnom Penh and from Siem Reap
BRIEF ITINERARY
Prices are quoted in US Dollars per person, double occupancy.
Private Tour, depart at your convenient date
Learn more about Khmer Rouge period
Elephant Sanctuary in Mondulkiri
Local markets
Bou Sra waterfall
Hill tribe villages
Veun Sai - Siem Pang Conservation area
Dolphine watching in Kratie
Preah Vihear & Angkor Temples
Boat trip on Tonle Sap Lake
Day 1: Phnom Penh arrival
Welcome to Phnom Penh- the vibrant bustling capital of Cambodia. Despite recent rapid changes, the city exudes a sort of provincial charm and tranquillity with French colonial mansions and tree-lined boulevards amidst monumental Angkorian architecture. Upon your airport arrival, you will be met by your guide and transferred then to your hotel in the city center for checking in.
The rest of the day will be free on your own.
Meal: N/A
Accommodation: Hotel in Phnom Penh
Day 2: Phnom Penh
Begin your morning with breakfast at hotel then set out to see the capital city of Phnom Penh. Despite its recent turbulent history, it still maintains considerably charming. A city tour acquaints us with some major sights of Phnom Penh. The Tuol Sleng Prison Museum and the notorious 'Killing Fields' of Choeung Ek are not to be missed. A visit to these sights provides a deep insight into the painful bloody rule of the Khmer Rouge. In the afternoon, we will visit Royal Palace which is now home to the royal family. You also see the northern section of the Palace grounds where the most sacred Silver Pagoda lies and then the National Museum. Conclude your day by a browse around the fascinating Russian Market before making your way back to the hotel where you will spend the rest of time at leisure.
Meals: Breakfast.
Accommodation: Hotel in Phnom Penh.
Day 3: Phnom Penh – Mondulkiri
Enjoy a tasty breakfast at hotel, check out to drive east to Mondulkiri which is the most sparsely populated although being the largest province in Cambodia. The province is chock full of natural beauty, with thickly forested mountains, powerful waterfalls and home where Khmer, Chinese, Muslim Cham and other tribal minorities live. On the way, stop at Kampong Cham, where you will visit the Wat Nokor Pagoda. This 11th century Mahayana Buddhist shrine is home to a large reclining Buddha as well as many carved Buddha images. Next, step on the longest bamboo bridge in the world before stopping at a local restaurant for lunch (your own account).
Upon arrival in Mondulkiri, check in the hotel then enjoy the rest of the evening at your leisure.
Meals: Breakfast
Accommodation: Hotel in Mondulkiri.
Day 4: Mondulkiri
After breakfast at hotel, our guide will take you to Mondulkiri elephant sanctuary.
8.45am – 9.00am: drive to the starting point of the tour which offers views over the large area of forest which has been protected from logging by the Mondulkiri Project.
9.00am-12.00pm: First we walk from the hilltop into the jungle to the Mondulkiri Project's Jungle Lodge. Here you will listen to your guide talk about the Mondulkiri Project. Next it is time to meet the elephants and their Mahouts. Take lots of photos, get close to the elephants and have fun feeding the elephants bananas. Watch as the elephants walk around eating bamboo and enjoying being elephants. You will also see them scratching against tree trunks and throwing dirt or mud on their backs.
12.00pm – 2.00pm: After walking back to the Jungle Lodge it is time for lunch and relaxing in hammocks. The Lodge has great views over the jungle and is a good place to view wildlife and many species of birds.
2.00pm – 4.00pm: In the afternoon we return to the bottom of the valley to find the elephants still eating lunch. Next we help the mahout slowly walk an elephant to the washing area alongside a lovely waterfall. It is time to have fun swimming and washing one of the elephants in the river to keep its skin clean and healthy and free from infection. Elephants really enjoy having a bath! We then walk to another deeper waterhole where we watch an elephant playing in the mud and washing swimming.
4.00pm – 5.00pm: After saying goodbye to the elephants we walk back out of the jungle to our starting point before being driven back to your hotel.
Meals: Breakfast & Lunch.
Accommodation: Hotel in Mondulkiri.
Day 5: Mondulkiri
Wake early and visit the local market frequented by the Phnong people, traveling from the nearby villages to buy and sell their wares. Then we travel to Bou Sra about 40 km northeast from Sen Monorom. This double drop waterfall is one of the largest and most impressive in all of Cambodia. Enjoy the natural beauty of the region then discover the Phnong village also named Bou Sra. On the way back to Mondulkiri we will stop at a numbers of hill tribe villages, taking time to appreciate the countryside and scenery.
Meals: Breakfast.
Accommodation: Hotel in Mondulkiri.
Day 6: Mondulkiri - Ratanakiri
After breakfast at hotel, the driver will take you on 5 hour drive to Ratanakiri. The journey offers an excellent opportunity to observe rural Cambodia up–close. Located in Cambodia's far northeast, this rural rugged province of Ratanakiri is a 70% ethnic minority, which are known as "Chunchiet". Ratanakiri was as recently as 2002 seriously off the beaten track but has since been "discovered" step by step. Upon arrival, check in and enjoy your free time afterward.
Meals: Breakfast.
Accommodation: Hotel in Ratanakiri.
Day 7: Rattanakiri Sightseeing.
Departing from hotel around 8:30am. After a short drive (35km) you will arrive at Kachon village. From here you will take a traditional boat and head upstream to Kackork Village (20km) where you will stop to visit a traditional village and cemetery. You will then return to your local boat and cruise downstream along on the Sesan River and onwards to the town of Veun Sai (32km).Departing from hotel around 8:30am. After a short drive (35km) you will arrive at Kachon village. From here you will take a traditional boat and head upstream to Kackork Village (20km) where you will stop to visit a traditional village and cemetery. You will then return to your local boat and cruise downstream along on the Sesan River and onwards to the town of Veun Sai (32km).Back to have lunch at Bun Lung around 2pm.
Meals: Breakfast.
Accommodation: Hotel in Rattanakiri.
Day 8: Ratanakiri - Kratie - Dolphin watching
After breakfast, you enjoy a quick shopping tour in Banlung market before leaving to Kratie, a vibrant riverside town and home to the endangered freshwater Irrawaddy dolphins. Arrive in Kratie in the afternoon and check-in at your hotel. Then drive north of town and take a local boat to view the freshwater dolphins that inhabit this stretch of the Mekong. Enjoy an hour on the river, before returning to the quaint French colonial town for the evening.
Note: Dolphin watching subjects to availability.
Meals: Breakfast.
Accommodation: Hotel in Kratie.
Day 9: Kratie - Stung Treng
After breakfast, your guide and driver will take you to visit Wat Phnom Sambok to see the Buddhist monasteries and to enjoy the magnificent views of the surrounding countryside from the hilltop. Continue to Sambor district (45 km from Kratie) to visit the "Hundred Pillar" pagoda of Wat Trasor Muoy Roy and visit also Wat Vihear Kork before arrive to Stung Treng.
Stung Treng is located 50 km south of Laos, on the banks of the San River, just off the Mekong. It is a very quiet provincial city, showing the authentic and remote "face" of Cambodia. Visit the smallvillage of Thala Barivat on the other Mekong River side, crossing the river by speedboat.
Meals: Breakfast
Accommodation: hotel in Stung Treng
Day 10: Stung Treng – Preah Vihear
After breakfast, leave Stung Treng for 2.5 – 3 hours driving to Preah Vihear.
The Temple of Preah Vihear, a unique architectural complex of a series of sanctuaries linked by a system of pavements and staircases on an 800 meter long axis, is an outstanding masterpiece of Khmer architecture, in terms of plan, decoration and relationship to the spectacular landscape environment. Situated on the edge of a plateau that dominates the plain of Cambodia, the Temple of Preah Vihear is dedicated to Shiva. The Temple is composed of a series of sanctuaries linked by a system of pavements and staircases over an 800 meter long axis and dates back to the first half of the 11th century AD. Nevertheless, its complex history can be traced to the 9th century, when the hermitage was founded. This site is particularly well preserved, mainly due to its remote location. The site is exceptional for the quality of its architecture, which is adapted to the natural environment and the religious function of the temple, as well as for the exceptional quality of its carved stone ornamentation.
Meals: Breakfast
Accommodation: Hotel in Preah Vihear
Day 11: Preah Vihear – Koh Ker – Beng Melea – Siem Reap
After breakfast, your guide and driver will pick you up for Koh Ker, a 10th century capital abandoned in the remote north of Cambodia for more than a thousand years. Enjoy a visit to the pyramid temple of Prasat Thom. Continue to explore the many temples at this incredible site, including the beautiful Prasat Krahom covered by jungle.
Then, we continue for Beng Mealea, "Lotus Pond" Temple from the early 11th Century built by Suryavarman II asa Hindu Temple; about 2 hour drive from Siem Reap. If there is one temple to explore resplendent with jungle engulfing it, it is Beng Mealea. Clambering over large sandstone blocks to reach the inner sanctuary and eerie worship corridor is an exploration to remember. Situated 60 km east of Angkor Wat, through traditional countryside life, over bumpy laterite roads, Beng Mealea is a temple hidden in a maze of jungle. Architecturally, Beng Mealea is noted for its innovative, in its time, construction of hallways, it was a very large temple with wide galleries foreshadowing Angkor Wat. Garudas, hold up an outer platform, finer in detail than those to be found out in the elements of the Elephant Terrace at Angkor Thom. Surprises of fallen lintels with intricate carvings lay amongst the fallen wall and roofs.
Arrive in Siem Reap late afternoon.
Meals: Breakfast & Lunch
Accommodation: Hotel in Siem Reap
Day 12: Siem Reap - Angkor Temples
Enjoy an entire day dedicated to discovering the mysterious Angkor temples. Wake before dawn and take a tuk-tuk ride to visit the magnificent Angkor Wat - the largest Khmer temple and finest example of Angkorian art and architecture.
Return to the hotel for breakfast then set back out on a full day temple tour. Starting with Angkor Thom's imposing South Gate, topped with the four serenely smiling faces of Avalokiteshvara. Next, visit Bayon temple, the Elephant Terrace, the Terrace of the Leper King and Ta Phrom Temple.
Accommodation: Hotel in Siem Reap
Meal: Breakfast
Day 13: Siem Reap - Tonle Sap Lake - Departure
After breakfast, going on boat trip on the Tonle Sap. This is the largest permanent fresh-water lake in South Asia and flows into Tonle River, joining the Mekong in Phnom Penh. We will see a "floating village" – boats that have been converted to look like houses and the "village" moves from place to place according to the water levels. We continue to one of the city's lively open markets, Psar Chass, called the "Old Market", where you can see the locals shopping and going about their lives.
Your driver takes you to Siem Reap airport for your departure flight.
Meals: Breakfast
Bon Voyage!
Note: Please be aware that flight times, hotels and all other logistics, services and days of travel are subject to availability. If the listed hotel is fully booked, alternate accommodation will be offered.
All hotels are rated according to local standards. All itineraries are flexible and can easily be altered to suit your needs and interests. Contact one of our travel consultants for more information.
How do I pay when I want to book this tour?
- We accept payment by debit/ credit card (Visa, Master, Amex), cash and bank transfer.When you confirm a booking with us, we will send you our online payment link or bank details to deposit 30% of the total tour cost. The balance will be due as soon as you arrive in Cambodia. Our travel consultants will give more details via email about payment instruction.
Are the rates displayed per person or per room?
- The prices shown on our website are per person based on twin/ double accommodation.
I am wonder if it is a private or a group tour?
- We only arrange private holidays and adventures – for a solo traveler, couples, families or a party of friends (no min or max passengers) – rather than impersonal group tours. You are never just another seat number. Our purpose is to offer the best travel experience at the keenest price.
Are taxes and service charges included in rates?
- Yes. The prices are inclusive of all taxes and service charges.
Any surcharges if my travel dates are during Christmas or New Year Holidays?
- The rates are regular price and they are not included a compulsory dinner (Gala dinner) on the day of Christmas or New Year Eve. Surcharges depend on specific hotels you stay at, so our travel consultants will give further information to you in communications.
What meals are included?
- Our tours include daily breakfast at hotels and some other meals as stated in the itinerary (see day by day).
Is the tour with fixed departure dates, accommodations?
- No fixed departure dates and an extensive choice of hotels – your holiday, your way. You can depart on any dates at your favor, stay at any hotels on your special interest. Just give your ideas to us then we will customize the tour with best offer for you.
How to change or cancel my reservation?
- We only run private tour, so the itineraries are very flexible. You can change or amend your schedule in advance or during your trip but surcharge maybe applied according to our contract with local suppliers, hotels and airlines. Regarding cancelation terms, please check out this link: Terms & Conditions
Is cambodiatours.com trusted
- www.cambodiatours.com is a member of and operated by Asia Travel & Leisure Management Group. More information about us at: www.asiatravelandleisure.com
Want to Ask a question?
International flights
Meals that not mentioned in the itinerary
Early check-in and late check-out at hotels.
Personal expenses (such as laundry, telephone, drinks, etc.)
Tips for guides and drivers
Personal travel insurance
Peak season surcharges (if any)
Cambodia Visa (more at www.cambodiatours.com/visa)
Did you know? All of our tours are private and daily depart.
Cambodia Tours
can organize any additional accommodations, domestic and regional flights.
Call us on
0084 858 919 559
to speak to one of our experts.