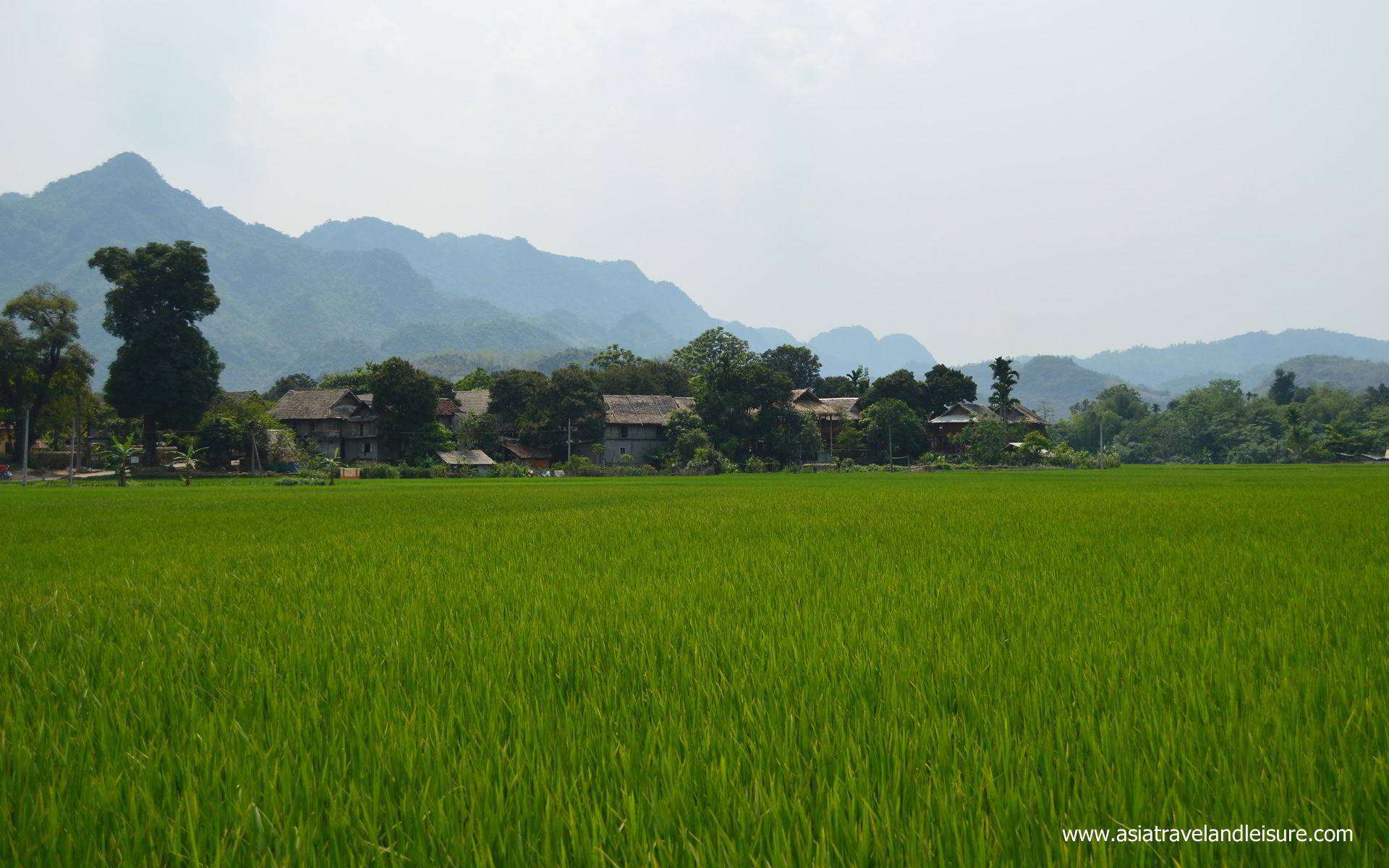 During this 11 day adventure, you'll visit some of the wonders of the world - The Angkor Temples of Khmer Kingdom and the World Heritage Site of Halong Bay, plus trekking to the Thail hill tribe villages in Mai Chau in Vietnam. This tour combines the highlights of Cambodia and Vietnam. Begin with a visit to the ancient Angkor temples of Khmer Kingdom and explore the legendary Angkor Wat. Then travel to North Vietnam to discover the colorful cultures of the hill tribe peoples and sail through the mystical and tranquil Halong Bay.

"Cambodia North Vietnam 11 Days"

2017-03-24 01:56:19

"Cambodia North Vietnam 11 Days"

Start city: Phnom Penh (Cambodia)

End city: Hanoi (Vietnam)

Duration: 11 Days 10 Nights

Departure: Private Tour. Daily, upon your request.

Cities to visit: Phnom Penh - Battambang - Siem Reap - Hanoi - Mai Chau - Ninh Binh - Halong Bay - Hanoi

- Extendable with optional tours from Phnom Penh (Cambodia) and from Hanoi (Vietnam)
BRIEF ITINERARY
Day 1: Phnom Penh Arrival
Day 2: Phnom Penh City tour
Day 3: Phnom Penh - Battambang
Day 4: Battambang - Siem Reap - Tonle Sap Lake
Day 5: Siem Reap - Angkor temples
Day 6: Siem Reap - Kbal Spean - Banteay Srei - Fly to Hanoi
Day 7: Hanoi City tour
Day 8: Hanoi - Mai Chau
Day 9: Mai Chau - Ninh Binh
Day 10: Ninh Binh - Halong Bay
Day 11: Halong Bay - Hanoi - Departure
Prices are quoted in US Dollars per person, double occupancy.
Private tour, depart on your convenient date
Delve into Khmer history
Sunset dinner on Mekong cruise
Ride the Bamboo train in Battambang
Experience local people's life on floating village
See the glorious Angkor Temples
Cool off in a stunning waterfall and rock pools in Kbal Spean
Visit all "must see" of Vietnam's capital
Trekking in Mai Chau
Relaxing on luxury cruise in Halong Bay
Day 1: Phnom Penh Arrival
Welcome to Phnom Penh, Cambodia's vibrant and bustling capital city. Despite its recent turbulent history, Phnom Penh's wide tree-lined boulevards and faded colonial mansions hold an undeniable charm. Upon arrival, you will be welcomed by our tour guide and transferred to the hotel for check in. Time for relaxation.
Meals: None. Accommodation: Hotel in Phnom Penh.
Day 2: Phnom Penh City tour
After having breakfast at the hotel, start the day learning about the Cambodia's past tragedy with a visit to the Tuol Sleng Genocide Museum and the notorious Choeung Ek "Killing Fields." Next, enjoy the introduction of the ancient Khmer art and civilization when browsing in the National Museum. Continue to the Royal Palace overlooking the confluence of the Mekong and Tonle Rivers. Built in 1866 by King Norodom, the palace is now home to the royal family. Within the palace grounds you will find the Silver Pagoda, its floor covered by 5,000 silver tiles that give the pagoda its name.
Enjoy a short break to freshen up before driving to the dock where you will embark an evening boat to cruise along the Mekong River. Savor a welcome dinner on board as you watch the sunset over the shimmering lights of Phnom Penh.
Meals: Breakfast and Dinner.Accommodation: Hotel in Phnom Penh.
Day 3: Phnom Penh - Battambang
After having breakfast at hotel, leave Phnom Penh for Battambang, Cambodia's second largest city. Get a taste for Cambodia's rural life and stop en route at Kompong Chnang to visit the floating village in Kompong Luong. Once you reach Battambang in the afternoon, enjoy an orienting walking tour through the city's bustling boulevards lined with quaint French colonial buildings to get acquainted with the city. Next, visit some of Battambang's signature hilltop temples as well as the infamous cave, Phnom Sampov, used as an execution field under the Khmer Rouge.
Meals: Breakfast.Accommodation: Hotel in Batambang.
Day 4: Battambang - Tonle Sap Lake- Siem Reap.
Today, you will take the most scenic drive from Battambang to Siem Reap, the provincial capital and gateway to the ancient Angkor Temples. Recognized as a World Heritage Site by UNESCO, Siem Reap is well known with dozens of temple ruins including Bayon, Banteay Srei and the legendary Angkor Wat. On the way, you will see a large mulberry farm and once you reach the edge of the Tonle Sap Lake, embark on a cruise to Mechreay, an isolated Khmer community built on wooden stilts. The community has about 3,000 inhabitants who farm fish and vegetables on floating platforms. As the Southeast Asia's largest freshwater lake, this is home to a unique ecosystem. Immerse yourself in the nearby mangrove forests before heading toward Siem Reap where you will find your hotel to check in and spend the rest of the day at your leisure.
Meals: Breakfast.Accommodation: Hotel in Siem Reap.
Day 5: Siem Reap - Angkor temples
Rise up early for a transfer by tuk tuk to the magnificent Angkor Wat. The trip is designed for you to see "the spiritual Temple reflex on the water" at dawn- the haunting, cooler and less crowded moment. As the UNESCO World Heritage Site, Angkor Wat where the Hindu God Vishnu is dedicated was constructed by Suryavarman II who reigned Cambodia from 1113 to 1152. The plan of the pyramidal conception of the temple combined with spaces, alleys and ditches is an ancient masterpiece of architectural design and construction.
For your most convenience, a table with hot tea or coffee and breakfast box arranged by Travel Cambodia will be served right on site of Angkor Wat.
This is our way to avoid the crowd when they go back to their hotel for breakfast.
After breakfast, we continue to the South Gate of Angkor Thom, which is famous for its majestic doors and artifacts. Next, visit the monumental temple of Bayon, the heart of Angkor Thom and known for the hundreds of smiling faces that grace its towers. Move to the Terrace of the Elephants, a platform where King Jayavarman once surveyed his army. Close by is the Terrace of Leper Kings, which includes a statue depicting Yana, the Hindu god of death. Leaving Angkor Thom by its North Gate for Preah Khan (Sacred Sword), one of Angkor's largest temples, constructed in the 12th century by Jayavarman VII. Then it's a short drive to one of the most loved temples of all - Ta Prohm, a wonderful combination of human genius and natural beauty with its giant trees that have grown there for centuries.
Later this afternoon you will return to your hotel where you spend the rest of time at your leisure.
Meals: Breakfast.Accommodation: Hotel in Siem Reap.
Day 6: Siem Reap - Kbal Spean - Banteay Srei - Fly to Hanoi
Kbal Spean was the refuge of 11th – 13th century religious hermits and over the centuries they carved lingas stands, animals and sacral friezes into the surrounding rocks and riverbeds. Today, challenge yourself with a 45 minute walk- up path before being rewarded for your efforts by a stunning waterfall and rock pools in which to bath and cool off. This is also where the most of carvings are.
After lunch drive to Banteay Srei. Considered as the jewel in the crown of Angkorian art, Banteay Srei is cut from stone of a pinkish hue and includes some of the finest stone carving anywhere on earth.
Later, our driver takes you to the airport for your flight to Hanoi.
Welcome to Hanoi, Vietnam's bustling colonial capital. Arriving at the Noi Bai airport, another assigned local driver and guide will meet you outside the baggage claim to welcome and take you to your hotel in the city center.
Meals: Breakfast. Accommodations: Hotel in Hanoi.
Day 7: Hanoi City tour
This morning, depart your hotel by cyclo for the Temple of Literature, dedicating to Confucius and known as Vietnam's first university. Established In 1076, this center had educated Vietnam's royalty, generations of mandarins and members of the elite. Your next visit will be the iconic One Pillar Pagoda, built in 1049 under the rule of King Ly Thai To. Close by is the mausoleum of the historic father figure of modern Vietnam, Ho Chi Minh, and his modest house on stilts where he lived from 1958 to 1969. (View the mausoleum from outside; closed Mon and Fri and from Oct-Nov).
In the afternoon, continue to the fascinating Ethnology Museum to see the rich collection of artifacts about the 54 ethnic groups all over Vietnam. As an alternative to the Ethnology Museum, visit the highly acclaimed Vietnam Women's Museum, offering wonderful insight into the significant role Vietnamese women play in Vietnamese society.
Later, time to walk along the historic Old Quarter- a series of guild streets where the locals still trade the old way. This refined area of Hanoi provides a wonderful shopping experience and has a choice of many excellent restaurants. Conclude the day with the enjoyment of the traditional Water Puppet Performance, a traditional unique art form created by farmers in the Red River Delta.
Meals: Breakfast.Accommodation: Hotel in Hanoi
Day 8: Hanoi - Mai Chau
Wake early and enjoy breakfast at the hotel, before setting off on your drive to Mai Chau – a yawning valley, cradling picturesque rice paddies and boarded by looming karst rock formations. Enjoy picturesque views of the scenic landscape, sown with pagodas and rural villages. Stop along the way at Thung Khe Pass for a spectacular view of Mai Chau Valley. After lunch, spend the afternoon trekking off the typical tourist track, along the Song Ma River. Trek through terraced rice paddies and small villages, discovering the natural beauty of the valley and encountering the culture of the White Thai people, living in the region. Stop at a Thai village for the night, having dinner with a local family and enjoying a homestay in their long house.
Meals: Breakfast, Lunch & Dinner.Accommodation: Homestay in Mai Chau.
Day 9: Mai Chau - Ninh Binh
Enjoy breakfast at homestay before journeying to Hoa Lu, Vietnam's first capital. Visit to temples and walk hundred steps up to top of a mountain for a panorama view of the old capital. After lunch, enjoy a leisure cruise to visit Trang An, a nature reserve similar to Tam Coc however less visited. Limestone hills surround a peaceful river which passes through a series of caves (one which takes 15-minutes to pass through in darkness). It is an "eco-tourism" area, the only interruptions here are the sound of birds and the gentle paddle of the oar upon the crystal clear river.
Meals: Breakfast, Lunch.Accommodation: Hotel in Ninh Binh.
Day 10: Ninh Binh - Halong Bay
(The below itinerary is a sample and it will be different between cruises. Our travel consultants will provide the exact schedule and program if you book other junks such as Halong Violet, Halong Jasmine,
Paradise Luxury Cruises
, Indochina Sails, Au Co Cruise, Starlight Cruise etc.)
Discovery of Halong Bay's best of different formulas on a junk will take you to a ride amidst the magic archipelago; and depending on the length of the cruise, you'll enjoy a global overview of different wonders that this UNESCO World Heritage site has to offer.
After breakfast at hotel, your driver will take you on a 4-hour drive passing the countryside of the Red River Delta to Halong Bay.
12:00 – 12:30 Embarkation.
13:00 – 13:30 Welcome on boat, enjoy welcome drink and follow Cruise Manager briefing safety on boat as your cruise heads to "Cho Da" Stone Dog, Ga Choi "Fighting Cock", Hoa Cuong village.
13:30 – 15:00 lunch.
16:00 – 17:15 Visit Bat cave by:
- The 1st option: Kayaking (included).
- The 2nd option: Visit Bat cave by bamboo boat (included).
17:15 – 18:15 Back to the cruise to find safety place for overnight. Free time on cruise.
Option: Massage service available. Please book with Cruise Manager directly (please see massage menu).
18:00 – 19:00 Cooking demonstrations on sundeck, Happy Hour (buy one drink, get one free).
19:30 – 21:30 Dinner.
21:30 – 23:00 Entertainment activities:
- The 1st option: Join squid fishing, film entertainment (included).
- The 2nd option: Massage service available. Please book with Cruise Manager directly (please see massage menu).
23:00 Overnight on cruise.
Meals: Breakfast, Lunch, Dinner.Accommodation: on cruise.
Day 11: Halong Bay - Hanoi – Departure
06:15 – 06:45 Tai Chi instruction on sundeck.
07:00 – 07:45 Breakfast.
07:45 – 08:45 Exploring Surprise cave (about 60 minute on foot).
09:00 – 09:30 Check out, payment in reception area.
10:00 Brunch.
11:30 Back to Tuan Chau pier.
Your driver will transfer you to Noi Bai International Airport for your departure flight.
Meals: Brunch.Accommodation: N/A.
Note:
Please be aware that flight times, hotels and all other logistics, services and days of travel are subject to availability. If the listed hotel is fully booked, alternate accommodation will be offered.
All hotels are rated according to local standards. All itineraries are flexible and can easily be altered to suit your needs and interests. Contact one of our travel consultants for more information.
How do I pay when I want to book this tour?
- We accept payment by debit/ credit card (Visa, Master, Amex), cash and bank transfer.When you confirm a booking with us, we will send you our online payment link or bank details to deposit 30% of the total tour cost. The balance will be due as soon as you arrive in Cambodia. Our travel consultants will give more details via email about payment instruction.
Are the rates displayed per person or per room?
- The prices shown on our website are per person based on twin/ double accommodation.
I am wonder if it is a private or a group tour?
- We only arrange private holidays and adventures – for a solo traveler, couples, families or a party of friends (no min or max passengers) – rather than impersonal group tours. You are never just another seat number. Our purpose is to offer the best travel experience at the keenest price.
Are taxes and service charges included in rates?
- Yes. The prices are inclusive of all taxes and service charges.
Any surcharges if my travel dates are during Christmas or New Year Holidays?
- The rates are regular price and they are not included a compulsory dinner (Gala dinner) on the day of Christmas or New Year Eve. Surcharges depend on specific hotels you stay at, so our travel consultants will give further information to you in communications.
What meals are included?
- Our tours include daily breakfast at hotels and some other meals as stated in the itinerary (see day by day).
Is the tour with fixed departure dates, accommodations?
- No fixed departure dates and an extensive choice of hotels – your holiday, your way. You can depart on any dates at your favor, stay at any hotels on your special interest. Just give your ideas to us then we will customize the tour with best offer for you.
How to change or cancel my reservation?
- We only run private tour, so the itineraries are very flexible. You can change or amend your schedule in advance or during your trip but surcharge maybe applied according to our contract with local suppliers, hotels and airlines. Regarding cancelation terms, please check out this link: Terms & Conditions
Is cambodiatours.com trusted?
- www.cambodiatours.com is a member of and operated by Asia Travel & Leisure Management Group. More information about us at: www.asiatravelandleisure.com
Want to Ask a question?
Accommodation with daily breakfast at selected hotels
Private tours, transfers and all services as mentioned in the itinerary
Services of a private driver and air-conditioned vehicles
Service of English speaking guides in every location
Entrance fees for all mentioned sights visited
Meals as mentioned in the itinerary
1 flight: Siem Reap – Hanoi
Boat Trips
Did you know? All of our tours are private and daily depart.
Cambodia Tours
can organize any additional accommodations, domestic and regional flights.
Call us on
0084 858 919 559
to speak to one of our experts.